September 28, 2018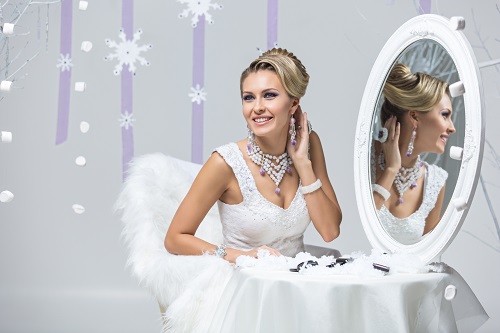 When something important is right around the corner, such as your wedding day, that is always when your face decides to break out in a fit of acne. We've all been there, and it drives us all crazy! If you find yourself a week away from your big day with uncooperative acne, there are a few tricks of the trade that just may help you out—and avert what may seem like a crisis waiting to happen. If you're in need, just follow our quick acne fixes below:
Ice Cubes
To successfully use an ice cube to help with an acne outbreak, wrap a soft piece of cloth, maybe muslin, around one or two ice cubes. Hold them over your affected areas for one to two minutes, waiting several more minutes before you repeat these steps. The ice is meant to reduce the inflammation, swelling, and redness acne causes by increasing blood flow in the affected areas. Additionally, ice helps to constrict skin pores while also eradicating any dirt and oil from the skin.
White Toothpaste
With some cotton swabs, you can place white toothpaste—as opposed to the gel kind—over your acne. Keep the toothpaste on overnight before washing it off. It's also suitable for different skin types—oily, dry, and combination—and the toothpaste causes the acne to dry and therefore fasten healing time. The antibacterial properties in white toothpaste also eliminate the bacteria known to cause acne.
Cinnamon and Lemon
For this one, mix one teaspoon of cinnamon together with one tablespoon of lemon juice before applying the mixture on the affected areas of skin—let it sit overnight before you wash it off. Lemon juice has considerable vitamin C in it, allowing it to help you fight acne, but it isn't recommended if you have sensitive skin.
Apple Cider Vinegar
This quick fix calls for diluting one teaspoon of apple cider vinegar in one fourth of a cup of water. Once concocted, apply the mixture to the affected area with a cotton swab, keeping it on overnight. Apple cider vinegar is also a natural astringent, helping you rid yourself of acne by restoring the pH levels in your skin.
Cucumber
After grating a cucumber, apply it to your acne and keep it there between 20 and 25 minutes before you wash it off. You can also make a mask using grated cucumber, one or two tablespoons of plain yogurt, and a cup of oatmeal. Leave the mask on for 25-30 minutes before rinsing it off with warm water. Cucumbers contain vitamins E, C, and A, not only soothing the skin following a breakout but also aiding in the prevention of acne breakouts in the first place.
Manuka Honey
For breakouts, apply Manuka honey to the acne-affected areas using cotton swabs, keeping it on about 30 minutes and then rinsing it off. Manuka is allegedly said to have antimicrobial properties, which, if true, can help cut down on acne.
Need to order some Manuka honey? To get your order started, click here, and remember, we offer FREE shipping on all orders of $150 or more.
Photo By Svetography
---