September 24, 2016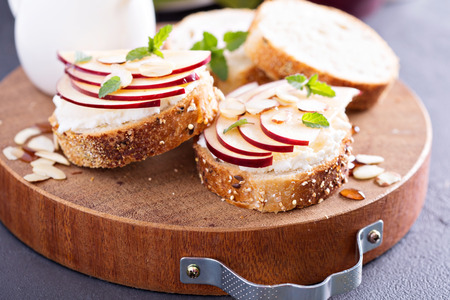 Manuka Honey , Manuka Honey Recipes
Manuka Honey Brushed Pear Boursin Crostini
If you're looking for a different type of appetizer for an upcoming party or multiple course dinner, these Manuka Honey Brushed Pear Boursin Crostini are guaranteed to be the choice no one thinks of but everyone loves once they delight themselves with one bite! This appetizer combines multiple flavors including Boursin cheese, walnuts, pear slices, and various spices all on top of French baguette slices sweetened by the rich Manuka honey, bringing some Kiwi charm to an Italian-originated dish.
Altogether, this pre-meal joy invokes a time long lost on us when, like bruschetta, crostini were largely peasant dishes chosen due to the lack of a need for ceramic dishes, which may or not have been readily available. While a mere hors d'oeuvre now, this appetizer represents the best kind of history—the kind that reminds of the past while being enjoyed right now in the present.
Ingredients for Manuka Honey Brushed Pear Boursin Crostini
1 French baguette cut into 3/4" slices (ends discarded)
1/3 cup Manuka honey
1/3 cup quality olive oil
1 phg. Boursin cheese of any flavor, softened to room temp
1/4 cup mayonnaise
3 tablespoons grated parmesan
1 teaspoon fresh ground pepper
1 tablespoon fresh tarragon, chopped
18 whole walnuts, toasted
1 firm fresh pear, halved, cored, and cut into slivers
1/2 cup shredded radicchio
Sprouts for garnish if desired
Directions for Manuka Honey Brushed Pear Boursin Crostini
Yields eight servings total.
Preheat oven to 350 degrees on bake.
In a small bowl, mix together the Boursin cheese, mayo, parmesan, pepper, and tarragon until mixture is smooth. In a separate bowl, mix Manuka honey and olive oil together.
Place French baguette slices on baking sheets, brushing both sides with the Manuka honey oil mixture. Bake for about 8-10 minutes.
Remove the baguette slices from the oven and let cool.
Divide the cheese spread evenly between each baguette slice. Top the cheese with 2 or 3 pear slices each and drizzle the remaining Manuka honey oil mixture over the pears.
Bake the crostini for another 6-8 minutes or until the cheese is warmed through. Remove the crostini from the oven and top with the walnuts and the shredded radicchio.
Serve immediately or at room temperature, using the sprouts as a garnish if one so desires.
Note: You can substitute apples for the pears and add some blue cheese to the Boursin cheese for a different type of flavor.
Enjoy your Manuka Honey Brushed Pear Boursin Crostini!
Copyright: fahrwasser / 123RF Stock Photo
---