February 16, 2020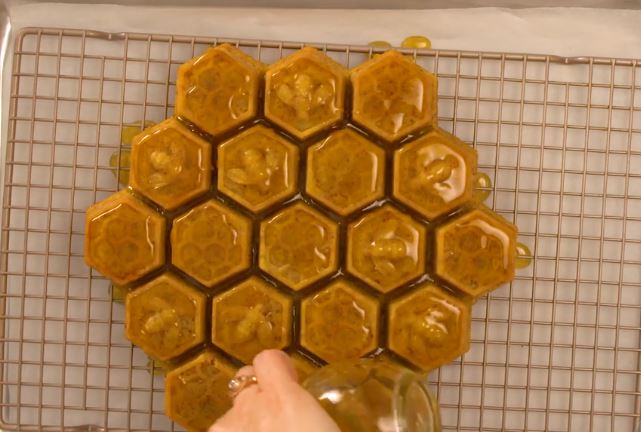 This honeycomb cake not only uses raw honey but it looks like a real honeycomb! To see the full recipe, click here.
We love honey recipes that really emphasize the fact the recipe is made with honey. This recipe from the Food Network does exactly that. You are going to have to buy a honeycomb mold pan in order to make the recipe but if you are honey lover, trust me, you are going to get plenty of use out of it after you taste this cake for the first time!
Ingredients for Almond Honeycomb Cake
1 ¾ cups unsalted butter (will need a little more to butter the pan)
¾ cup all-purpose flour
2t kosher salt
2 cups sugar
2 large eggs (take them out to allow them to come down to room temp)
1 vanilla bean, split lengthwise
3 cups almond flour
3T whiskey (TX whiskey is perfect for this recipe – Makers Mark if you cannot get TX)
1 orange
8 green cardamom pods, very lightly crushed
1 ½ cups Manuka honey
To Make Almond Honeycomb Cake
Preheat oven to 350 degrees Fahrenheit
Using a 12 ¼ * 11 2/3 honeycomb dessert pan, coat the entire pan with butter (be sure to get into all the crevices of the pan)
Lightly dust the pan with flour, then tap pan to ensure excess flour is removed
In a large mixing bowl, add 1 ¾ cups of butter 1 ¾ cups of sugar
Set electric mixer to medium and blend until well-combined (should take about three minutes)
Then, one at a time, beat in three eggs (at first the mixture will appear to be broken, but it will come together)
Add seeds from vanilla bean and continue to beat into mixture (save the vanilla pod)
Turn speed on mixer to low and add almond flour
When flour has been folded in, add whiskey and continue to beat on slow until well-combined
Using your buttered pan, pour in mixture, then tap pan on table to ensure mixture is evenly distributed
Place pan in oven and bake for 35 to 45 minutes (test cake with toothpick to see when done)
Allow cake to cool for about 15 minutes after removal from oven on a wire rack
When cake has cooled, turn over pan and remove from mold (if there is any excess flour, use a basting brush to lightly brush off the flour
While the cake is cooling, use a veggie peeler to remove six strips of peel from the orange
In a small saucepan, boil the cardamom pods in ¾ cup of water
When most of the water has evaporated, about eight to 10 minutes, remove from heat and add 1 cup of honey and orange peels
Stir well and allow the mixture to sit for about five minutes
Using a mesh strainer, strain the mixture into a small glass and discard the solids
Drizzle this mixture over the top of the cake, being sure to cover the entire surface
Allow the mixture to soak into the cake for an hour
Just prior to serving, in a small saucepan, add one tablespoon of water and ¼ cup sugar
Heat over medium heat and stir for about three minutes until all ingredients are dissolved
Add ½ cup honey, stir until combined, then remove from heat
Drizzle over cake just before service
If you need to order some Manuka honey to make this recipe, click here. And, remember, we offer FREE shipping on all orders of $150 or more.
To see the video of the recipe on the Food Network, click here.
Recipe and photo viaFood Network.
---