August 13, 2016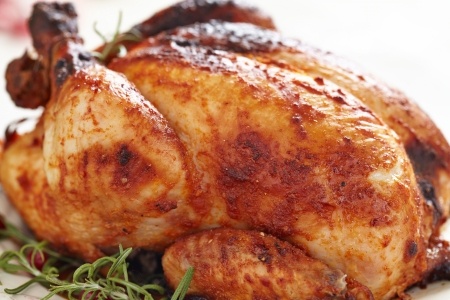 Manuka Honey , Honey, Manuka Honey Recipes
Apricot, Manuka Honey Glazed Chicken
If you need a go-to, relatively easy to make meal for multiple people right around dinner time, this Apricot Manuka Honey Glazed Chicken will certainly do the trick with its wonderful flavor and heavy dose of protein and other essential nutrients. Combining the sweetness warranted by fruits and their natural sugars with the classic sensation of glazed chicken, this meal is not only delicious and fulfilling, but it also has the look of a professional chef's finest cuisine. Such a trial run is one of the best gateway meals to memorable nights with the family around the dinner table.
This recipe in particular offers between 6-8 servings, depending on how much each person can get their hands on, and requires about 3 hours for prep and baking time—so be sure to allow for enough time, since no one likes to eat dinner at nine o'clock!
Ingredients for Apricot, Manuka Honey Glazed Chicken
1 (4-5 lb.) roasting chicken
1 cup seedless red or green grapes
4 tablespoons Manuka honey
1 can (16 oz.) apricot halves in syrup
1/4 cup butter or margarine, melted
2 teaspoons seasoned salt
1/4 teaspoon black pepper
1/2 cup dry white wine
Directions for Apricot, Manuka Honey Glazed Chicken
Rinse chicken in cold water and pat dry with paper towels for a quick start. Stuff body cavity with 1 cup of red or green grapes after tossing them with 2 tablespoons of the Manuka honey.
Tie legs close to body and fold wing tips back or secure with skewers or twine. Place chicken breast side up on rack in a shallow roasting pan.
Drain apricot halves, reserving syrup. Set aside 6 halves for garnish. Process remaining apricots in a blender with melted butter, seasoned salt and pepper, and the remaining 2 tablespoons of Manuka honey. Brush over chicken in the rack.
Pour white wine and 1/4 cup of apricot syrup into the bottom of the pan.
Cover chicken loosely with tent of aluminum foil.
Roast at 350°F for 1 hour and 45 minutes to up to 2 hours or until chicken is tender. Baste occasionally with pan drippings to glaze. Remove foil during last 30 minutes of roasting.
Serve chicken on a platter garnished with clusters of green grapes and apricot halves.
All in all, the recipe yields about 6-8 servings. Enjoy your roasted chicken dinner!
Copyright: shashkina / 123RF Stock Photo
---