September 05, 2019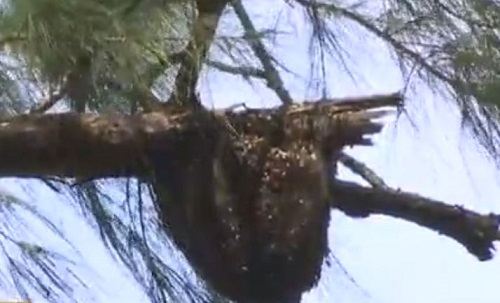 Cape Coral, FL parents got quite a scare when they looked up into the trees at a local park. High above the area where their children were playing was a massive hive of honey bees. While panic definitely set in among some of them, cooler heads prevailed, and the city called on a local beekeeper to take care of the bees.
Jaycee Park has long been an area enjoyed by local families. However, it apparently is also a favorite gathering spot for local bees. The winds being kicked up by Dorian have no doubt made the bees a little move active than usual, but it does not appear that the hive attacked aggressively towards anyone in the area. Better safe than sorry, though, as we know people tend to panic when they see a large hive such as this.
When Kathy Nicholsen saw the hive, shed stated, "Oh my God. That's a big beehive! I wouldn't want to be anywhere near it. I have a son who, when he was younger, he was very highly allergic to bees and he had to carry an Epi-pen with him whenever he went out."
Rather than having the parents or the kids attack the hive with stones and/or sticks, or worse, attempt to spray it, the city stepped in to address the issue. Rather than call in an exterminator, the city did the right thing and called in Keith Councell, a local beekeeper, to handle the problem. Councell used a lift to get up to the bees, covered the hive in mesh, then carefully removed that branch of the tree so he can relocate the hive in its entirety.
After removing the massive hive, Councell stated, "These are just regular, European honeybees. It is a possibility that the winds that we're getting from the hurricane could drop some of the cone [sic] down and the bees would be on that. It's better to have them in usable boxes that we can use for farming. We're roughly a million hives short nationwide, so we need every hive of bees we can get,"
Some of the bees will also make their way to Florida Gulf Coast University. Councell currently works with the school studying patterns of bees as well as the different types of bees currently in the area. This is another win/win scenario for all involved. The park is free of the bees and Councell gets a healthy addition to his pollination business!
Source and Photo: WINK News
---