July 30, 2019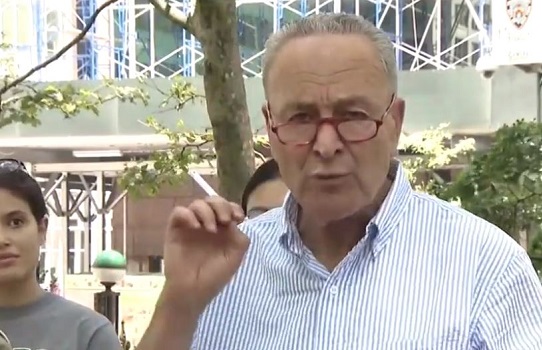 Honey News, Honey Bees, Honey Industry
All of a sudden, Senator Chuck Schumer (D-N.Y.) has become the honey bee's biggest advocate in Washington D.C. After appearing in Upstate New York last week, Schumer appears to have a new affection for the honey bee. The problem was brought to his attention during that appearance and Schumer vowed to help the state's agriculture sector by going to bat for the bee surveys that were recently canceled by the Trump administration.
Canceled Surveys
Earlier this month, the USDA stated there were budget shortfalls and cuts had to be made. Part of those cuts were vital honey bee surveys that track bee populations throughout the country. A single season of lost data could set the industry back considerably, so the honey bee industry was ecstatic that Schumer was taking this on as a pet project.
Demanding Action
On Sunday, Schumer for the second time in a week called on the federal government to reinstate the surveys. He further stated if the USDA did not find the funding to conduct the surveys, he was going to use an appropriations bill to provide the funding needed to ensure the survey was conducted this year. Schumer stated, "Our beehives throughout New York and throughout the country are in decline. We need the data because it lets us connect the dots to try to find out why the bees are dying off."
Schumer also pointed to a possible reason as to why the surveys were suddenly killed, and it actually makes sense. As you may recall, we recently did an article about a pesticide that has been previously restricted but is now once again available for use. This particular pesticide is a known bee killer, which had bee advocates scratching their collective heads. Schumer stated, "There's great speculation that this [falling bee populations] is done by pesticides. Maybe the pesticides industry went to the USDA and got them to quietly kill the survey." His comment may have been meant as a slight to the Trump administration but bee advocates took note and conspiracy theories are already spinning up on social media and in forums associated with the honey bee industry.
If Schumer delivers on the surveys, it will clearly be a huge win for the honey bee industry. With state after state reporting record losses, this year's surveys will play a vital role in diagnosing and addressing this issue. Without them, hundreds of beekeepers may soon find themselves shuttering their businesses for good.
Source: New York Daily News, Photo via CBS New York Youtube Video Screenshot
---