May 22, 2020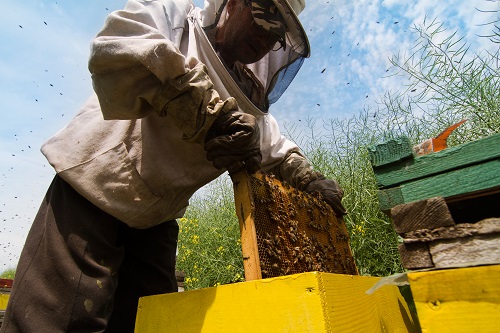 As luck would have it, the COVID-19 lockdown has created a significant opportunity for some beekeepers.
For every bad there is a good, right? At least that is how things are supposed to work in a "balanced" world. As bad as things have been during the COVID-19 lockdown, beekeepers in Albania have managed to find a silver lining. The lockdown has decreased pollution and pesticide use, and the honey bees are thriving because of it.
When lockdowns were first put in place, there was considerable concern that the timing of the lockdown would be detrimental to honey bees, especially in Europe and Asia. Many of the countries in these parts of the world still had bees that were relying on beekeepers for their nutrition, with some beekeepers not being able to get to their hives for more than a month. In Albania, at least, the lockdown seems to have created an opportunity nobody had really even considered to this point.
Pollution maps around the world were pretty stunning during the lockdown. Pollutant levels all but disappeared. The lockdown also meant that pesticides were not being put to use as much as they normally are. The result of this has been a stellar year for honey bees, at least in Albania. Local beekeeper Gezim Skermo stated it is "a golden year for bees." He would go on to say he has "never seen a season like this" as well as calling it a "rebirth for nature and the bees."
Something else of importance is the fact that Skermo stated he had no significant losses this year. Normally, he sees dead bees stacked up in front of the hive, but not this year. He stated, "There was no noise, no pollution, nothing that could disturb them." His hives were alive and well, with bees standing ready to block any intruders while the worker bees were doing their thing putting out a record harvest for Skermo.
Beekeepers throughout Albania are now expecting to be able to harvest their hives twice this season, which is a true rarity. In recent seasons, they have experienced so much loss, one full season would not even generate as much honey as a single harvest will this year. The Albanian beekeeping industry as a whole has been reeling in recent years, with estimated losses topping out at over 60 million euros.
This may not just be limited to Albania, either, as beekeepers around the globe can be expected to have similar harvests. If the bees managed to survive without human interaction, there is great hope that we will start to see reports like this for beekeepers around the globe. It would be excellent news for an industry that feared the worst only weeks ago.
Source: Court House News
---