October 22, 2018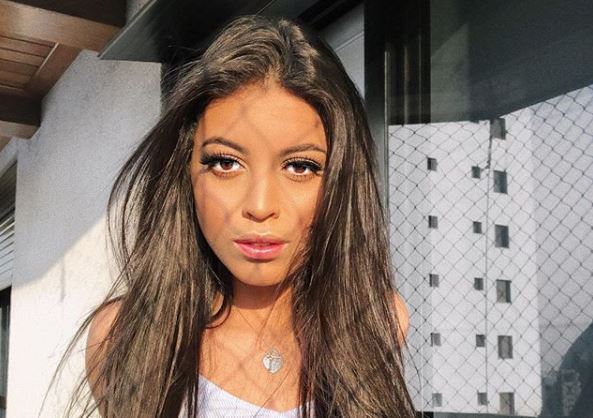 For popular Instagram user Gabrielle Santana, rocking a head of luscious, beautiful hair is something she's quite well known for at this point. She ought to be, given she's mastered the application of the perfect coiffed pajón and drawn over 18,500 people into following her account due to her must-try hair products and natural styling tips. Santana, who's garnered the name of the Curly Bella, has gone out of her way to be transparent regarding her natural hairstyling journey. According to a July Instagram post for "Transformation Tuesday," which saw her comparing her hairstyles from 2013 and 2018, Santana said, "I started relaxing my hair at the age of 13, and it took me two years to transition my hair…Be patient. This journey takes time, but it's beautiful."
As many women have done previously, this Latina-Afro influencer has both chemically treated and heat-styled her hair in order to achieve long, straight tresses, but moving from Puerto Rico to NYC kick-started a hair transition for her. Years later, Santana has her hair styling routine down to science. "I had to teach myself, and really internalize that this is my hair and this is how it is," Santana said. "I can try to make it like someone else's, but that's never going to work out. It's not going to be good and healthy for me either."
Santana has learned a lot about managing natural hair, and it's allowed her a bit of authority on the issue to the point that people are seeking her out directly for her opinions. When asked directly what she loves about her hair, Santana stated that she loves how it connects her to her heritage, "When I see myself in the mirror…I see my parents. They both had really curly hair, and I see the African culture inside of me and I see the Taíno skin, and it's a mixture of who I am. So, it's a way for me to show that I am very proud of who I am and where I come from."
In terms of taking care of her natural hair, Santana went so far as to say it can take as much as half of a day. "It's so time consuming, but I wash my hair every four days…I try not to wash it too often because my hair needs those oils, and if it gets completely dry, my curls do not cooperate." Full hair days require deep cleanses for Santana, with shampoo that specifically strips away considerable build-up within the hair. Santana also likes to mix oils in with her hair masks, specifically those containing Manuka honey and yogurt mixed with argan oil, black castor oil, avocado oil, and some peppermint oil to help open her hair's follicles.
"I think that it's really important," Santana said, "especially for women with natural hair, to know that you're not going to get the same hair as anyone else…Even if we have the same hair type, our curls are going to lay differently…style differently, so I think that, especially in the beauty community, learn to love your curls, and learn what works best for your hair."
Want to try Manuka honey in your hair care regimen? To learn more about our products or to get an order started, click here. And, remember, we offer FREE shipping on all orders of $150 or more.
Photo via Gabrielle Santana Instagram Account
---