December 27, 2018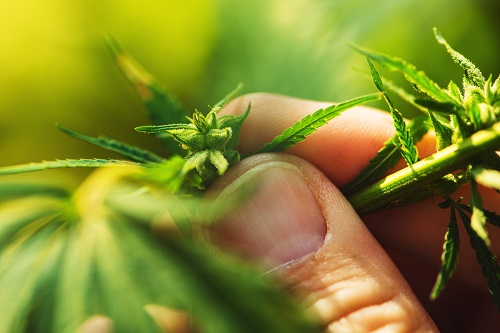 Honey bees have long been in the headlines due to their rapidly declining numbers, but the last few weeks have them in the spotlight for a new, somewhat strange reason. Specifically, a fairly recent experiment showed that hemp could be a good pollen resource for overly stressed bees—and a company based in Israel has started marketing honey produced by cannabidiol-fed bees as a result. It's a win-win situation for both parties—the bees are given a reliable pollen source and those in the (hopefully legal) marijuana industry have a new product.
According to Colton O'Brien, who is a student researcher with Colorado State University, honey bees are visiting Colorado hemp fields and seem to be using these plants as pollen resources during late summer. For O'Brien's paper, delivered during a Vancouver entomology conference back in November, he conducted a month-long experiment, where bees from 23 different species were found in traps set up near hemp fields in August 2018. This project basically started from a single observation from O'Brien, saying, "You walk through fields and you hear buzzing everywhere."
This study was performed at two northern Colorado hemp farms from late July to early September. Flowering for hemp falls during times when other plants have finished blooming, resulting in very few nutritional sources that pollinators like bees need. This leads to them becoming stressed while trying to find suitable pollen sources. However, though hemp doesn't produce nectar, it does create a lot of pollen instead. "Thus, hemp becomes a valuable pollen source for foraging bees, giving it the potential to have a strong ecological value," O'Brien said. O'Brien's team recommended that better policies for pest control be implemented for hemp, due to the plant's potential importance in maintaining bee health.
It's this potentially beneficial relationship that PhytoPharma, the Israel-based company selling honey made by cannabidiol-fed honey bees, sees the potential of. The honey that PhytoPharma's bees produce, which goes by the name of "cannabeez," is made possible, according to Forbes, because their bees are given low amounts of cannabidiols that then allow them to produce this particular honey. Per PhytoPharma, cannabeez provides health benefits allegedly present in CBD-infused products but without the infused aspect.
Rather, the product is created exclusively by bees, supposedly offering sleep support, relieving pain, and alleviating anxiety and stress, but it's without "intoxicating effects or chemical interference," per PhytoPharma. While the effects of hemp on honey bees still need to be tested on a larger scale, it will be interesting to see where research takes it and if the results support O'Brien's conclusions about the value of hemp for bees.
Photo By stevanovicigor
---