October 24, 2018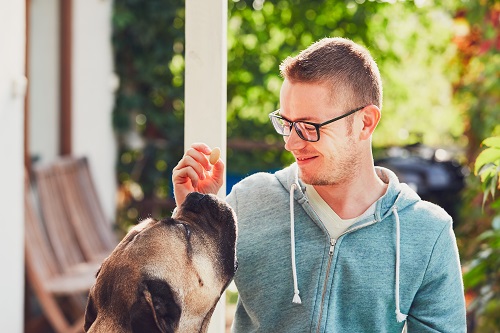 No one has to remind dog owners how expensive their canine friends can be, because they're certainly very aware of it! From the many vet visits, the pounds and pounds of dog food every week, the toys, the training, and so forth—the list seemingly never ends. However, since giving away a dog is never the first option for alleviating pet costs—at least for real dog owners it isn't—it's best to come up with methods for making pet care more affordable, especially for those out there who might be struggling to make ends meet. One of the easiest ways to help the financial burden is by baking your own dog treats, and you can easily start with these Manuka honey peanut butter dog treats:
Ingredients for Manuka Honey Peanut Butter Treats
¾ cup of peanut butter, smooth
1 tablespoon of Manuka honey
1 cup pf nonfat milk
2 cups of flour
1 egg
1 tablespoon of baking powder
1 cup of oats
Directions for Manuka Honey Peanut Butter Treats
To start, preheat your oven to 325 degrees Fahrenheit on the Bake setting. Using a large-sized mixing bowl, add the peanut butter, egg, milk, and Manuka honey until the ingredients have blended well.
Now, add in the flour, the oats, and the baking powder to your mixture, which should result in a particularly stiff dough. Mixing by hand or even using a hand-mixer may not provide the power required for this mixing job, but a stand mixer may work just fine. Note: If your dough isn't stiff as it should be, you might consider adding small amounts of flour at a time until you get to that desired texture.
After you have chosen some clean, spacious counter space and covered it with a light layer of flour, pour the dough out onto your workspace, and start rolling it until it's about ¼-inch thick. You can cut the dough into any shape you desire from here using a cookie cutter.
Place the treats on to a baking sheet lined with parchment and then bake them in your preheated oven for about 20 minutes. Afterward, flip the treats over to bake them for another 15 minutes, giving them a crunchy texture once they're finished baking.
Remove the treats from your oven and give them time to cool down before you store them or feed them to your canines.
Need to order some Manuka honey so you can make these treats for your furry friend? To get your order started, click here. And, remember, we offer FREE shipping on all orders of $150 or more.
Photo By Chalabala
---