September 16, 2019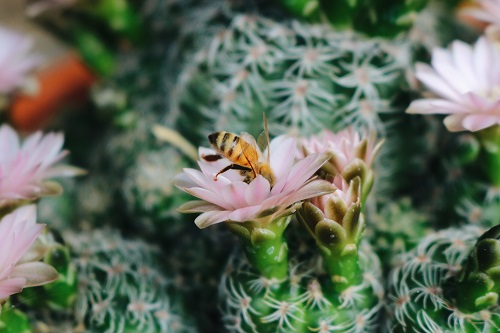 In an effort to help honey bees and find pesticides that will not be harmful, Bee Vectoring Technologies has created a new approach to treating plants with a fungicide. The recently EPA-approved Vectorite, which is a Clonostachys Rosea CR-7 fungicide, is not only eco-friendly, it is also delivered to the plants by the bees themselves. If successful, it could change the way farmers treat their crops and put an even bigger emphasis on saving the honey bee.
Great Early Feedback on Vectorite
Bee Vectoring Technologies (BVT) is a Canadian startup that is trying to change the industry in a big way. While some in the industry just shook their head at the thought of bee vectoring, BVT could wind up being the next "big thing" if Vectorite is successful and so far, it seems to be working fairly well.
As you may know, honey bees pollinate about 30 percent of our crops and about 70 of the top 100 crops around the world. It is estimated that honey bees pollinate about $15 billion in crops every single year. John Swanson is one of those farmers that benefits from the pollinating abilities of honey bees. Swanson grows sunflowers, soybeans, corn, and wheat. While his name may not be known to very man people, he has played an important role in bringing Vectorite to market.
Swanson has been involved in the trials for Vectorite for the last three years. He stated, "Most farmers are very concerned about using products that can hurt the environment. Bees are important to the sunflower crop. I have worked with seed production for about 40 years, and bees are the only pollinator for hybrid sunflower seed production."
One of the main challenges for one of his crops, sunflowers, is the spreading of the fungi sclerotia. Swanson stated, "This fungicide suppresses sclerotia by about 40 percent. It's the best product I've seen so far." The honey bees pick up the product as they are exiting the hives via trays that are placed holding the Vectorite. Once the bees land on the crop, the Vectorite on their feet is transferred over to the plant, which is far more effective than traditional delivery methods.
While the early feedback is positive, this is not the biggest challenge for BVT and its future success. Because farmers will still have to treat their plants with pesticides, the bees are still put at risk, as many of the pesticides in use that kill insects that are harming crops also end up killing the bees that pollinate them. For now, the new product must be used in conjunction with pesticides until BVT comes up with a way to deliver a pesticide that will kill other insects without harming the bee. If they manage to do that, the way farmers protect their crops will be forever changed and the honey bee will become the most valuable insect on the planet.
---