February 09, 2020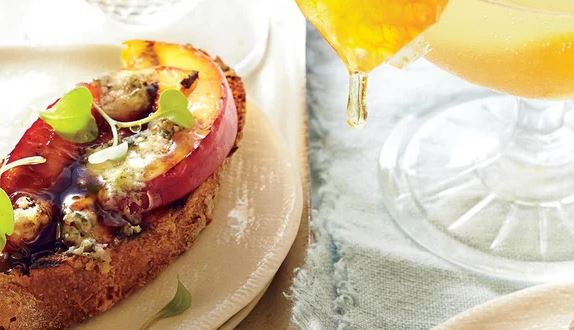 A perfect recipe for spring! Grilled nectrarine and blue cheese crumble bruschetta! Read more...
With spring right around the corner, it is time to start thinking about the incredible flavors of the new season that we can incorporate into our meals. For me, bruschetta has always been a great way to create a dish that looks very complicated and wows the guests that really is not complicated or difficult at all to make.
Traditionally, bruschetta is a dish made with tomatoes, onions, olives, and a sprinkle of cheese, but it is hardly written in stone that is the only way you can serve this dish. The recipe we are featuring today is perfect for spring and summer, and with these ingredients, your guests will never look at bruschetta the same way again.
Ingredients for Nectarine-Blue Cheese Bruschetta with Honey Drizzle
2T Manuka honey
2 medium nectarines, quartered
Nonstick cooking spray
5 ounces whole-wheat baguette (cut diagonally into 12 pieces)
1T balsamic glaze
1/3c crumbled blue cheese (can also substitute goat cheese if you do not like blue cheese)
1t water
To make:
Preheat your grill (or grilling pan) to medium-high heat
In a small bowl, add 1t honey and 1t water, whisk until combined
Rub mixture over cut sides of nectarine
Spray grill or grilling pan with nonstick spray, then place nectarines on grill
Grill nectarines on each side for two minutes
After nectarines are cooked, but each piece into four wedges
Spray baguette pieces with cooking spray and grill on each side for about one minute
When bread is done cooking, reduce heat to medium
Divide nectarine pieces evenly among pieces of baguettes
Top each baguette with the blue cheese crumbles, then place on grill
Cover baguettes while cooking on grill and allow to cook for 90 seconds
Remove baguettes from grill, then drizzle with honey and balsamic glaze
If desired, you can garnish with fresh berries or microgreens prior to serving
I have also made this recipe with other grilled fruits, such as bananas, pineapples, and figs. I generally change out the cheese to match up with the fruit being grilled.
If you need to order some Manuka honey to make this recipe, please click here. And, remember, we offer FREE shipping on all orders of $150 or more.
Recipe via My Recipes, Photo via Hector Manuel Sanchez
---