April 12, 2020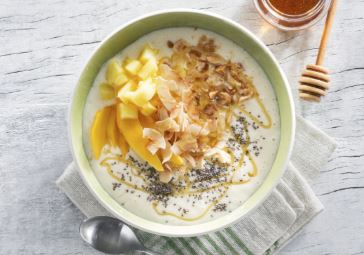 Quick and easy breakfast options using raw honey to help boost your immune system. Read more...
Eating Healthy, Eating Healthy
One of the best ways you can keep yourself healthy right now is by eating right. If, for some reason, you do come in contact with the coronavirus, you will need your immune system to be as healthy and strong as possible to fight it off, so put away the pancake mix and leave the Eggo waffles in the freezer, because we have two great options to get your day started the right way!
Tropical Smoothie Bowl
Now, I will admit it, I am a cereal junkie. It's quick, it's easy, and it tastes good. Unfortunately, most of the cereals we all like are not exactly nutritious. They are packed with carbs and sugars that will drag us down for the entire day. Rather than eating cereal, get your sugars in a far healthier way with this easy-to-make tropical smoothie bowl.
Ingredients:
1 banana, cut into large chunks (frozen)
½ cup pineapple chunks (frozen)
1 cup plain Greek yogurt
1 cup coconut milk
¼ cup raw honey
½ cup fresh pineapple (diced)
1 mango, sliced
¼ cup toasted coconut
2 tablespoons macadamia nuts, toasted and chopped
2 teaspoon chia seeds
To Make:
Blend banana, pineapple chunks, Greek yogurt, coconut milk, and honey.
Blend until smooth, then divide into two bowls equally.
Top the mixture off with the fresh fruit, toasted coconut, nuts, and chia seeds
To give it a little more flair, you can drizzle more honey over the top.
If you would like this to keep those hunger pains away a little longer, add a scoop of protein powder to the blended ingredients.
Avocado Banana Blueberry Smoothie
Smoothies are a great way to get the day started and are great for those of you that are in a rush. I also love to sip on one to both cool me off and provide some recovery after a good workout. This smoothie only takes a few minutes to make and you can have it ready to go even before you start your workout so you can gulp it right down while you cool down.
Ingredients:
½ cup almond milk with bananas (if not available, add medium banana to recipe)
1 cup fresh spinach
½ ripened avocado
2 cups frozen blueberries
1 tablespoon Manuka honey
1 tablespoon ground flaxseed meal
1 tablespoon almond butter
¼ tablespoon cinnamon
To Make:
Add all ingredients to blender and mix under well-blended
If you would like a thicker smoothie, add ice.
For a thinner smoothie, add a bit more almond milk.
Recipes via Honey.com and Blue Diamond, Photo via Honey.com website
---