September 18, 2019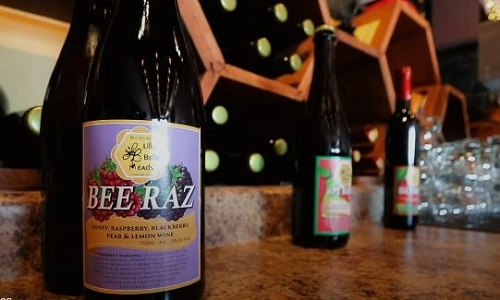 Honey News, Honey, Honey Industry
This is now the 10th year Buffalo Beer Week has been held but there is definitely a new twist to the festival this year. In addition to the slew of local craft beers that will be featured, those attending are also going to be treated to a new local brew… mead.
For those of you not familiar with the beverage, mead is a fermented alcoholic drink made from raw honey. Since so many people are unfamiliar with it, Joe Marshall, the co-brewer at Lilly Belle Meads stated that question has been asked of them thousands of times. He stated, "We've probably been asked that 10,000 times. In the simplest way to put it, it's an alcoholic beverage made from honey. It is not beer. It is not wine, yet it can be both similar to both of those at the same time."
While mead is one of the oldest alcoholic beverages in existence, it has never quite caught on as a popular drink. The new age of craft breweries is beginning to change that, however, although it is still a very slow-moving process. Marshall stated, "It's the least known alcoholic beverage. There are about 500 to 600 meaderies in the United States, there are nearly 400 craft breweries in New York State alone."
To make their mead brew, Marshall, who owns his own hives, has to outsource some of the honey used. Marshall stated, "We buy between 2,000 and 3,000 pounds of honey a year, all from Western New York. Bee Country has been wonderfully helpful. They supply a lot of our light spring honey, which we use in a lot of our mead." Bee Country is a local apiary operating about 300 hives in New York, which accounts for about 15 million honey bees.
If you are interested in attending Buffalo Beer Week, you still have plenty of time. The festival started on September 13 and continues through September 22, with about a dozen or so events taking place each day. The event finishes up Sunday night, but the Lewiston Harvest and Hops Festival will continue on next weekend, wrapping up on Sunday the 29th.
If you have never tried mead, some of the top reviewed meads are:
Wild Blossom Mead
Redstone Mead
Scramm's Meadery
Alpis Mead
Moonlight Meadery
You can also make your own mead at home using a kit (you can find them at online outlets like Amazon and eBay as well as specialty stores), but you are going to need to about two to three pounds of raw honey to make it! If you would like to purchase some raw honey to make your own mead, click here. And, remember, we offer FREE shipping on all orders of $150 or more.
Source and Photo: WGRZ NBC 2 in Buffalo (WGRZ Video Screenshot)
---