July 19, 2020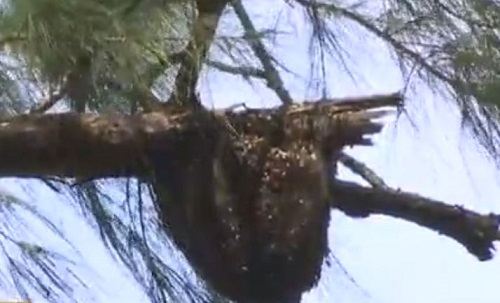 This is pretty amazing.
If you have ever seen the inside of a honey bee hive, you know it is not exactly ideal for warmer conditions. All that wax, honey, and all those bodies surely do not make for a very comfortable living space in the middle of the dog days of summer. Quite frankly, it's amazing we don't see puddles of goo at the bottom of hives. When you consider how small hives are, relatively speaking, and that as many (or more) as 100,000 honey bees call a single hive home, it is rather remarkable bees are not dropping from heat exhaustion.
So, how is it possible that amid 100+ degree days hives stay cool enough for the honeycombs to stay intact and for the honey not to be pouring out of the hive? Honey bees are pretty brilliant insects and among their many talents, they have figured out how to air condition hives without the benefit of electricity.
If you talk to any beekeeper, they will tell you how important it is to have a freshwater source close to the hive. The water serves two purposes for honey bees. First, it is a source of hydration, but it also serves a second purpose. Honey bees will take the water back to the hive to create small puddles inside the hive. Once they have water in the hive, they will gather over the water and start to flap their wings, blowing the cooler air throughout the hive.
The second way honey bees keep their hives cool is by moving to the outside of the hive. If all of the bees were in the hive at the same time, the natural heat of the bees would probably make the inside of the hive unbearable. Instead, when the weather turns hot, some bees go outside the hive and gather around the entrance. This may look similar to a swarm to the uneducated eye, but it is something they are doing to keep the hive cool.
As the bees gather around the outside of the hive, they will keep the entrance to the hive open but surrounded by bees. The honey bees will then start to flap their wings, which creates airflow through the hive, providing more cool air to keep all the goodies inside the hive safe. This is a technique called "bearding" and it is one of the marvels that are the genius of honey bees.
Source: Bay News 9
---