May 10, 2020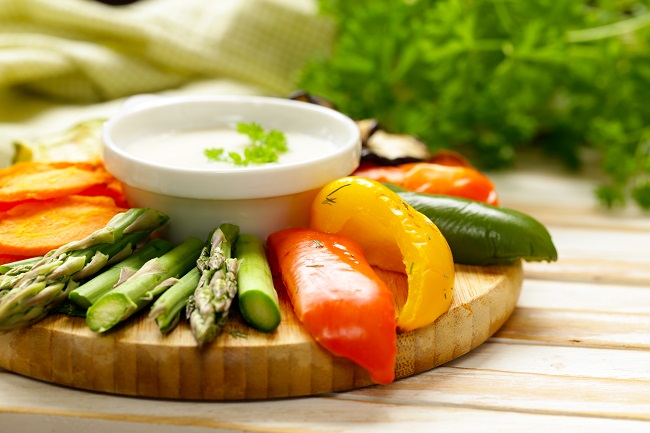 Two great-tasting honey dips for spring and summer gatherings.
Eating Healthy, Eating Healthy, Honey Recipes, Raw Honey
Spring offers so many new opportunities, especially this year when we are all just itching to get out of the house after being locked down from the coronavirus pandemic. Well, if you are ready to sit outside and soak up some rays, we have a couple of spring and summer dips made with raw honey that you are really going to enjoy while you bask in the sunlight.
Raw Honey & Horseradish Veggie Dip
Forget using onion dip or some other generic dip for your next veggie platter, because this dip takes about 10 minutes to make and everyone is going to love it. The rich flavor of raw honey coupled with the zing of the horseradish sauce work perfectly together to create a truly unique dipping sauce that everyone will remember.
Ingredients:
6 tablespoons raw honey
1 pint sour cream
2 tablespoons fresh OJ
2 tablespoons Dijon mustard
1 tablespoon creamy horseradish sauce
2 teaspoons crushed rosemary
1 teaspoon crushed chervil
1 teaspoon crushed basil
¾ teaspoon kosher salt
½ teaspoon white pepper
¼ teaspoon garlic powder
½ cup crumbled feta cheese
To make:
Add all ingredients to food processor and pulse until well blended. If you want a smoother dip, blend well or you can create a chunkier dip with just a few quick pulses of the food processor.
This dip is great with any fresh veggies but it goes especially well with seasoned grilled vegetables.
Raw Honey and Yogurt Fruit Dipping Sauce
This dip is one of my favorite dips to make for overnight guests in the summer, as we can just put it out and let everyone eat as we tell tales about the big party the night before. It can also be used as a beach snack or even for a dessert during the spring and summer.
Ingredients:
½ cup raw honey
8 ounces low-fat vanilla yogurt
1 ripened kiwi, peeled and diced
½ cup fresh or frozen raspberries
To make:
Add all ingredients to a food processor or blender and mix until smooth and well combined.
Any fruit works great for this sauce, but the time of day you serve it may dictate what fresh fruit you want to serve it with. For instance, for breakfast, strawberries, pineapple, and bananas are a great start. For dessert, you may want to consider individual servings with fresh berries. The possibilities are endless, so just have fun and experiment with all your favorite fruits.
If you need to order some raw honey to make this recipe, click here. And, remember, we offer FREE shipping on all orders of $150 or more.
Recipes via National Honey Board
Photo By Dream79
---