January 05, 2020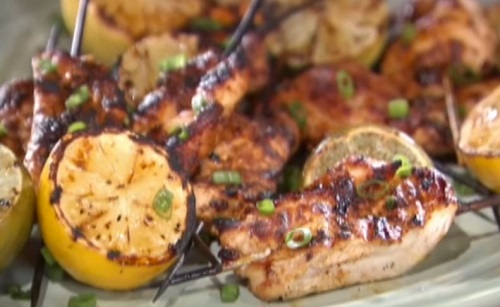 Thinking about throwing a Super Bowl party? Here are two great recipes made with raw honey. Read more...
The NFL playoff season is here and if your team is still in the postseason, that means lots of entertaining. If they are not in the playoffs, there is still more than likely the chance you will be hosting a party or need to make a dish for the party you plan on attending. Either way, we are going to start posting recipes over the next couple of weeks that you can make that won't take too long but you can rest assured, with the honey boost, they will taste great!
Raw Honey Lime Skewers
When you talk about the ideal food for a football party, what could possibly be better than meat on a stick? These skewers only take a few minutes to make and you can even change the recipe up a bit if you like to add some veggies to the skewers or make them as kabobs.
Ingredients:
2T raw honey
3T soy sauce
1T olive oil
1 pound skinless, boneless chicken breast strips
To Make:
Using a small bowl, add all ingredients and whisk until well combined
Add mixture into Ziplock freezer bag, then add chicken and seal
Allow to marinate in the bag for at least two hours while being refrigerated
Fill large bowl with water and add bamboo skewers
When chicken strips are ready, remove from bag and place on bamboo skewers
Place on grill on medium heat
Skewers will need to cook for about eight minutes in total and they should only be turned once. Allow them to cook for about five minutes on the original side, then turn and cook until done.
Sweet and Sour Chicken Wings
What is a football party without wings, right? Instead of serving the same old boring wings, change it up by serving these sweet and sour wings that have the perfect heat and a nice sweet kick from the honey.
Ingredients:
¾ cup of raw honey
¾ cup of diced sweet red and yellow peppers
1/3 cup rice wine vinegar
1/3 cup pineapple juice
¾t garlic salt
1/2 t hot sauce
5 pounds of chicken wings
To Make:
In a large bowl, combine all ingredients (except wings) and whisk together until well combined
Add mixture to saucepan and heat over medium heat to reduce
Preheat oven to 350 degrees
While mixture is cooking, place wings in a baking dish, then pour mixture over wings (save about a half cup of mixture to baste wings when done cooking)
Bake wings at 350 degrees for 20 minutes until done
When wings are done cooking, baste with remaining mixture and serve
If you need to order raw honey to make these recipes, please click here. And, remember, we offer FREE shipping on all orders of $150 or more.
Recipe via Food Channel
Photo via Food Network YouTube Video Screenshot
---