September 16, 2017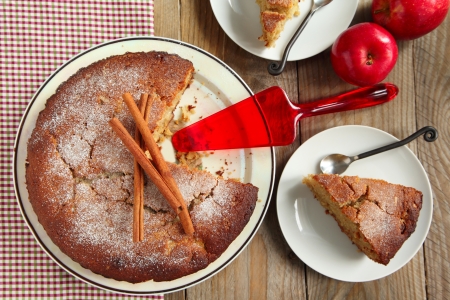 Manuka Honey , Honey, Manuka Honey Recipes
In case you're looking for a recipe that doesn't use any added sugar but still tastes as good as the real thing, this old WWII-era recipe—from a time when rations on food, including sugar, were still in full effect—just happens to be the perfect fit. Relying on honey and applesauce, both of which are often used as substitutes for sugar (applesauce even replaces milk in some recipes), this Manuka honey applesauce cake has enough flavor that it doesn't require any type of icing, which would likely only serve to overpower the cake's subtle sweetness, complemented perfectly with your choice of nuts.
So, for those who would like to try a taste of the past with the added benefit of Manuka honey (the bush from which it comes disregarded as an invasive weed back in the 1940s), fire up your oven and try your hand at this Manuka honey applesauce cake.
Ingredients for Manuka Honey Applesauce Cake
1 teaspoon of baking soda
2¼ cups of flour, sifted and divided
1 teaspoon of cinnamon
½ teaspoon of salt
½ teaspoon of cloves
1 cup of chopped nuts, maybe walnuts, pecans, or something similar
1 cup of raisins
1 cup of Manuka honey
½ cup of shortening
1 egg, beaten well
1 cup of apple sauce, thick
Directions for Manuka Honey Applesauce Cake
Before you begin, preheat your oven to 350 degrees Fahrenheit on the Bake setting.
Now, in a medium-sized bowl, sift only 2 cups of the flour with the baking soda, the cinnamon, the salt, and the cloves. In another bowl, mix your remaining ¼ cup of flour with your preferred type of nuts and the raisins.
In another separate bowl, cream the shortening with the Manuka honey until the mixture is fluffy. Then, add one egg to the honey mixture and beat it well. Add the floured nuts and raisins next.
Add your dry sifted ingredients as well as the applesauce in small quantities, beating well with each addition. This can be done with a hand mixer, a standing mixer, or even by hand if your hands are washed thoroughly first.
With everything mixed together, pour the cake mixture into a greased 8x8-inch baking pan, baking in your ready oven between 50 and 60 minutes or until a fork or toothpick inserted in the cake's center comes up clean. Set the cake out to cool before serving. Enjoy your Manuka honey applesauce cake!
Copyright: anjelagr / 123RF Stock Photo
---