January 02, 2020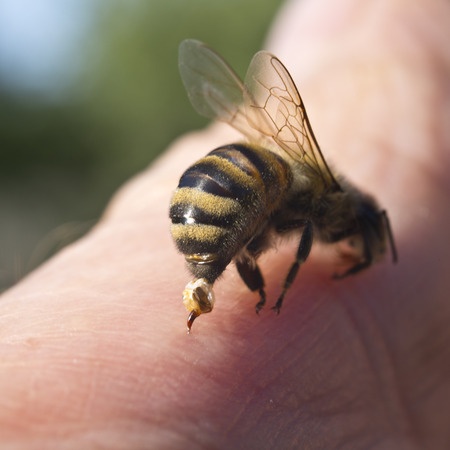 There have been some pretty disturbing stories in the news lately about people being attacked by swarms of angry honey bees. One story that absolutely blew up the internet just after Christmas was that of an elderly woman being attacked while she was walking her dog. According to reports, she was stung roughly two dozen times on her face and hands. The dog was also stung several times. Both will reportedly be okay.
The hive was located in some bushes and had roughly 1,000 bees. What we have not read, however, is if the hive was agitated by the woman or the dog. Because bees tend to be docile unless threatened, something must have stirred them up. It may not have even been the woman or the dog, but someone that had previously passed by and agitated the bees.
Another story hit the news this week with some very helpful information in it. This was about a local beekeeper, David Krenek, who is ramping up for a busy bee rescue season. When people come across random hives or discover hives in their home, Krenek is more than happy to remove them (that is if you live in Victoria, TX). Krenek has 20 hives himself, but he stated he and his wife only purchased two of them. The rest of the hives come from rescues.
On being stung during his rescues, Krenek stated, "I believe that 99% of the time I get stung, it's been my own fault – I wasn't careful how I suited up or I left something vulnerable. If they're not agitated and if you go at it slowly, remain calm and don't give off any fear pheromones, it's pretty easy."
Krenek also offered some rather significant advice in that agitated bees will put out a pheromone that is reminiscent of ripe bananas. He stated, "When you smell that smell, you might as well leave because that smell has told every bee, 'Get him.'"
There were several attacks in and around Victoria, TX last year with casualties. On those attacks, Krenek stated, "The people that were attacked (last) year in one way or another threatened the hive." Point being, when you spot a hive, avoid it all costs. Then call someone like Krenek that can come in and remove the hive without killing the bees. During cooler days, hives tend to be move docile but when the heat kicks up, so does their activity, so during the dog days of summer, when you smell bananas, run!
Source: Victoria Advocate
---