March 31, 2018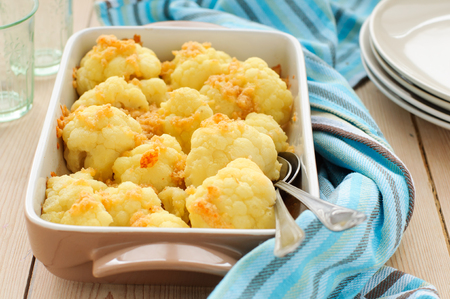 Manuka Honey Recipes, Raw Honey
Whether you're in need of a side dish for your next family meal or an appetizer for a dinner party, you should check out this garlic, honey-baked cauliflower as soon as possible!
Ingredients for Garlic, Honey-Baked Cauliflower
1 head of cauliflower, sliced into small florets
Cooking spray
2 cups of panko breadcrumbs
2 scallions, sliced finely
2 eggs, whisked
For the sauce:
6 tablespoons of Manuka honey
4 cloves of garlic, minced
6 tablespoons of water
2 teaspoons of cornstarch
1 teaspoon of onion powder
1 tablespoon of sriracha sauce
1½ tablespoons of soy sauce, low sodium
Directions for Garlic, Honey-Baked Cauliflower
To begin, preheat your oven to 350 degrees Fahrenheit on Bake before lining parchment paper along a large-enough baking sheet. In an even, thin layer, spread panko breadcrumbs across the baking sheet's surface.
Spray cooking spray onto the breadcrumbs, baking until golden brown, which should take between five and seven minutes. Line parchment paper along another baking sheet.
After you've whisked the eggs, dip the cauliflower into the egg mixture, shaking several times and removing excess eggs. Note: Dampening the breadcrumbs with any excess egg causes the breadcrumbs to not stick to the cauliflower florets.
Coat the cauliflower with breadcrumbs, pressing the breadcrumbs gently onto the cauliflower. Set the coated cauliflower florets onto the prepared baking sheet, repeating the process until all of the cauliflower has been coated. Bake the florets between 15-20 minutes until the cauliflower has cooked, leaving the coating a darker golden brown.
Using a small bowl, dissolve the cornstarch into water before setting to the side. Add the rest of the sauce ingredients to a small saucepan or pot and allow it to simmer, stirring until the ingredients have mixed.
Now, add the water-cornstarch mixture into the sauce, immediately stirring to dissolve the cornstarch water. Note: Not stirring can result in the cornstarch being lumpy.
Cook the sauce until it starts thickening, which should take around two minutes. Let the sauce cool down for several minutes, so it can keep thickening.
Drizzle the sauce over the cauliflower. Note: If you want to coat your cauliflower completely, you should double your sauce and use a pastry brush to brush it on the cauliflower. Use scallions as your garnish.
Remember, if you change the sauce, such as by including additional liquids, you might have to add extra cornstarch in order to thicken the sauce. Dissolve extra cornstarch in some water before you add it to the sauce.
If you need some raw honey to make this delicious recipe, just click here. And remember, we always take care of the shipping on all orders of $150 or more!
Copyright: dolphytv / 123RF Stock Photo
---