September 20, 2017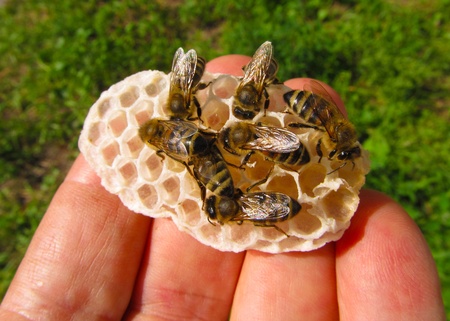 Honey, Honey Bees, Honey Industry
Just as the Hilton Hotel in Manhattan started its own apiary atop its fifth-floor roof, another building – this time in the West Side of Manhattan – has decided to defy the traditional image of a beekeeping operation by setting bee hives up on its south roof. This place is the Jacob K. Javits Convention Center, which is considered one of the more sought out sites in the U.S. for conventions, special events, and trade shows. At 760,000 sq. ft. with four levels and 102 meeting rooms, the southern roof of the now iconic structure, neighbor to the developing Hudson Yards, is covered by almost seven acres of yellowish-green sedum, which will turn red come winter—a perfect habitat for urban honeybees.
These bees atop the convention center, who've been on the rooftop since spring, were originally transplanted from California when there were only 12,000 in total. After being placed on the roof in stackable wooden hives, the bees' numbers had swelled to up to 80,000 when the middle of summer rolled around. NYC Beekeeping Director Diane Newton, who currently tends the bees, described getting the bees' new accommodations and adjusting them to it as "convincing them they live in a tree trunk when they live in a file cabinet."
This persuasion seemed to have worked. "They made cells for closets, cells for babies, cells for storing pollen," Newton said. "One amazing thing about bees is they have this architectural inclination." It's worth noting this entire operation wouldn't have been possible only several years ago as beekeeping in the city was illegal until around 2010 when the city's Board of Health ended the ban.
In addition to bringing bees into the convention center's daily world, the building's "green roof" was also installed several years after the bee ban ended during a multi-million-dollar scheme that was both a building face-lift and a sustainability project, with the building's darker glass façade being replaced due to birds constantly crashing into it. With this new green roof in place as well, the sedum used for feeding the honeybees captures fallen rainwater, keeping the convention center several degrees cooler on average compared to how it was before the green roof was installed. "The bees are a grace note, but the grace notes can only exist because the green roof exists," Newton said.
Even though Newton didn't expect to get any honey this year – since harvests usually don't occur just after a hive is set up – the bees did produce around 135 jars in total, which was surprising for everyone involved. "I was thrilled we could have a harvest this first year," Newton said. "Most of the time, in the first year, we don't count on getting any."
Copyright: daviden / 123RF Stock Photo
---