October 01, 2016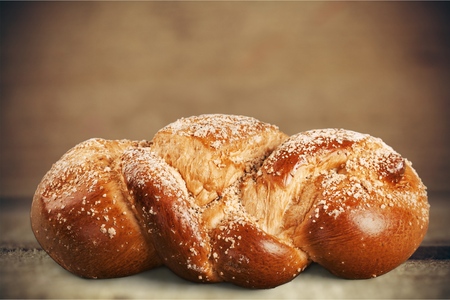 Manuka Honey , Manuka Honey Recipes
Apple-Raisin, Manuka Honey Challah
Whether you simply love unique breads or are of Jewish heritage and are baking for the holidays, this Apple-Raisin, Manuka Honey Challah is like no other! Combing the traditional fluffy texture of bread with sweet fruits and Manuka honey, this 10-serving bread takes some time, effort, and probability a bit of patience, but ultimately there is no better reward than this dish here. So, let's get started!
Ingredients for Apple-Raisin, Manuka Honey Challah
1 tablespoon instant yeast
3 cups (13 1/2 ounces) bread flour, divided, and extra for kneading
1/2 cup warm water
1/4 cup and 1 teaspoon Manuka honey, divided
3 tablespoons vegetable or canola oil
3 large eggs, room temperature, divided
1 1/2 teaspoons salt
1/4 cup sugar
2 apples, preferably Braeburn or Golden Delicious
1 teaspoon lemon juice
3/4 cup raisins
1 tablespoon sesame seeds for garnish
Directions for Apple-Raisin, Manuka Honey Challah
In a stand mixer bowl, using a whisk attachment, combine the yeast, 1/4 cup of flour, and warm water and whisk until smooth. Set aside until the yeast begins foaming, which takes about 10 minutes.
Whisk in 1/4 cup Manuka honey, the oil, and 2 eggs until well blended. In a separate bowl, sift together remaining flour with salt and sugar.
Replace the whisk with the dough hook and begin mixing at low speed. Add the flour mixture gradually until well combined.
Mix the dough for 6-8 minutes at medium-low speed to develop the dough. It'll be very wet and sticky and will not form a ball. Remove to a well-floured surface and gently knead, adding a little flour at a time (up to 1/2 cup) until the dough is elastic, soft, and only slightly sticky; this takes 1-2 minutes.
Place dough in a large, oiled bowl and cover it with a kitchen towel or loose sheet of plastic wrap. Set the bowl in a warm place until dough has doubled in size (1-2 hours).
While the dough is rising, prepare apples by peeling and coring them, and then cut each into 8 slices. Dice them. Toss apples with the lemon juice and 1 teaspoon Manuka honey to prevent discoloring. You should have about 1 and 3/4 cups of diced apples.
Whisk the last egg in a small bowl to form the egg wash.
Roll the dough on a well-floured surface into a long strand of 2 and 1/2 to 3 feet in length and 6 inches wide. Scatter the apples and raisins over the length of the dough, then roll the dough crosswise over the apples (like cinnamon rolls) and seal the ends with the egg wash.
To make the high-rising spiral shape, wind the strand to form a spiral (the tighter the spiral, the higher the final loaf), making sure the spiral's outer end is tucked under to prevent it from unraveling while the challah bakes.
Place the challah on a parchment-lined baking sheet and brush it with the egg wash, scattering sesame seeds evenly over the top.
Cover the challah loosely with greased plastic wrap and proof until doubled in size, which takes about 1-2 hours. When the challah is almost proofed, heat oven to 350 degrees.
Remove the plastic wrap and bake the challah in the oven's center until browned on top, the loaf's bottom is dry when lifted, and a thermometer inserted into the center reaches 190 degrees (about 35-45 minutes). Timing varies depending on the spiral's tightness and the loaf's density.
Rotate the challah after the first 20 minutes for even coloring. Remove the challah from the baking sheet and cool on a rack before serving. Recipe makes 10 servings.
Enjoy your Apple-Raisin, Manuka Honey Challah!
Copyright: olegdudko / 123RF Stock Photo
---