November 07, 2018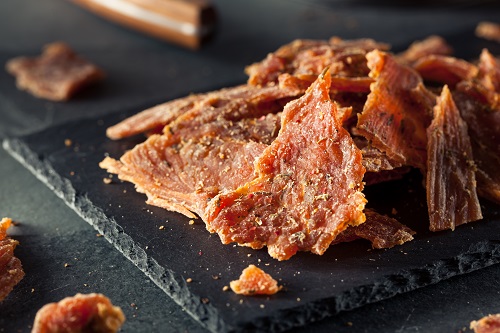 Anybody who really considers themselves to be beef jerky lovers should be willing to try new flavors. However, if your wallet is lighter than you want it to be for jerky experimentation, then you can always try making your own, starting with this Manuka honey jalapeño beef jerky! In the end, you don't need specialized equipment to make beef jerky at home—you just need a few ingredients, some time to kill, and the guts to try out new, if seemingly unusual, recipes. If you think you're ready to dive in, let's get started on that Manuka honey jalapeño beef jerky.
Ingredients for Manuka Honey Jalapeño Beef Jerky
1/2 cup of Manuka honey
1 tablespoon of Worcestershire sauce
1 jalapeño, sliced thin
1/2 teaspoon of onion powder
1/2 teaspoon of garlic powder
1 teaspoon of black pepper, cracked
1 tablespoon of kosher salt
1 pound of eye of round, sliced very thin
Directions for Manuka Honey Jalapeño Beef Jerky
Before you begin, you can discard the seeds from the jalapeño to get a less spicy flavor. From there, mix the Manuka honey, the Worcestershire sauce, the jalapeño, the onion powder, the garlic powder, the pepper, and the salt with a half cup of water together in a large saucepan, bringing everything to boil.
Reduce the heat and let the mixture simmer between 10 and 15 minutes. Move to a large-enough bowl before placing it in your fridge for complete cooling.
Place the sliced beef into a plastic sealable bag with your marinade, massaging to coat. The beef needs a minimum of ten hours to chill, so an overnight chill would be best.
Heat your oven, grill, or smoker to 160 degrees Fahrenheit. When ready, pat the beef dry with paper towels before placing the strips in the oven, grill, or smoker in one layer.
Cook the beef strips for 180 minutes until the jerky is firm and dark—not soft but pliable to the point of bending without breaking. Note: The cooking times can vary by the level of thickness the beef strips have, so it's best to check them often while they're cooking.
Allow the jerky time to cool down to room temperature, and then feel free to store the jerky strips inside an airtight container, waiting an hour before eating any of the strips. Remember to eat the strips within a week to enjoy them at their best. You should have about four servings.
Nutritional Info Per Serving: 348 calories; 9g fat; 3g saturated fat; 98mg cholesterol; 644mg sodium; 18g carbs; 0g dietary fiber; 18g sugar; and 31g protein.
Need to order some Manuka honey so you can make this recipe? To get your order started, click here. And, remember, we offer FREE shipping on all orders of $150 or more.
Photo By bhofack2
---