December 23, 2017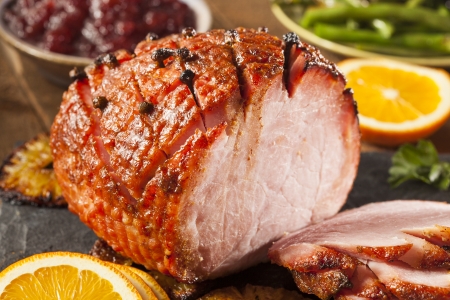 Manuka Honey , Honey, Manuka Honey Recipes
If you're looking for a delicious final course for a dinner party that's also easy to make, this Manuka honey rye glazed ham has got you covered! Nothing tastes better than a ham with the right amount of flavored glaze, and adding Manuka honey into the mix just makes the dish all the better. Admittedly, it might feel intimidating for less experienced cooks to try and make a ham that is a minimum of 12 pounds, but all it takes is following carefully laid out instructions and knowing what to look for in your ham. You just have to make sure to buy the right portion of the pig, meaning you'll want a smoked, bone-in ham rather than a country ham, which has been called the American prosciutto by some.
The actual cooking for your ham can take up to two hours, with preparation adding another hour at most, so just be sure to give yourself plenty of time before you dive in to this dish. If you think this ham is the one for you, then let's get started on that Manuka honey rye glazed ham!
Ingredients for Manuka Honey Rye Glazed Ham
3/4 cup of Manuka honey
1 1/2 cups of rye bourbon or whiskey (or another whiskey)
1/4 cup of light molasses, mildly flavored
1/2 teaspoon of black pepper, coarsely ground
1 teaspoon of red pepper flakes, crushed
One 12 to 14 pound smoked, cured bone-in ham, with skin removed (if preferred)
Directions for Manuka Honey Rye Glazed Ham
To begin, preheat your oven up to 350 degrees Fahrenheit.
Whisk together the Manuka honey, the rye whiskey, the molasses, the black pepper, and the red pepper in a medium-sized bowl.
Set your ham in a large-enough roasting pan and pour 2 cups of water into the roasting pan before setting the pan onto an oven rack.
Score the ham's fat layer with a crosshatch pattern, cutting roughly half an inch deep. Brush the ham with your rye whiskey-honey mixture and then roast. Baste the ham with pan juices in 20-minute intervals, tenting with aluminum foil if the ham browns too fast, until a thermometer you've inserted into the thickest portion of the ham reads 135 degrees. Approximately, this process should take 90 to 120 minutes.
Transfer the ham onto a ready cutting board, allowing it to rest for about ten minutes before you start slicing. Serve the ham with the pan juices. You should have between 16 and 20 servings.
Enjoy your Manuka honey rye glazed ham!
Copyright: bhofack2 / 123RF Stock Photo
---