July 23, 2017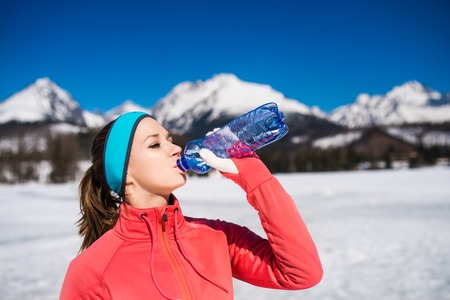 Given the typical summer heat many of us face on a yearly basis, no one needs to tell us twice about staying hydrated once the temperature outside spikes into the mid-90s. During wintertime, however, which most people likely count the days until, that same healthy initiative is not something as regularly touted. This fact is much to people's detriment because the body still requires eight cups of water or two liters minimum per day—a meager amount for such an essential part of our everyday necessities. No matter the weather outside, whether it calls for a burn ban or salt on the road, we must provide our bodies with adequate hydration.
Erin Lovell Verinder
An herbalist named Erin Lovell Verinder recently discussed the importance of drinking water regardless of the weather since the human body doesn't change between seasons like the leaves. People might not feel quite as thirsty during winter, but they still must drink as much water as they do during summer. "Water maintains our metabolism, regulates our body temperature, aids toxin elimination, and is involved in so many processes in our body, which need support regardless of the weather," Lovell Verinder said.
Per Lovell Verinder, studies have indicated the body will absorb cold water slower than room temperature water. She continued, "Our bodies have to go through certain processes to absorb cold water, and this takes more time and energy than room temperature water absorption." This makes sipping water slowly an effective way of absorbing it in addition to warmer water during winter, which can help the body regulate its temperature.
Herbal Teas
"Herbal teas are the best way to hydrate in winter," Lovell Verinder said, suggesting that people rotate between favorites during the day and not overload on caffeine rich teas. She also suggests using Manuka honey or fresh sliced lemon or ginger root in a cup of hot water for a beverage during winter. Other possible herbs include Echinacea, astragalus, olive leaf, or Chaga for assorted tea blends.
Lovell Verinder also suggested for post-workout routines that people use a dash of sea salt in order to balance electrolytes and restock their body's lost minerals. Vegetables and fruits are other ways to hydrate, considering they have much water in them naturally, as well as warm broths and clear soups, either bone or vegetable based, which can be sipped on throughout one's day.
Copyright: halfpoint / 123RF Stock Photo
---