July 30, 2016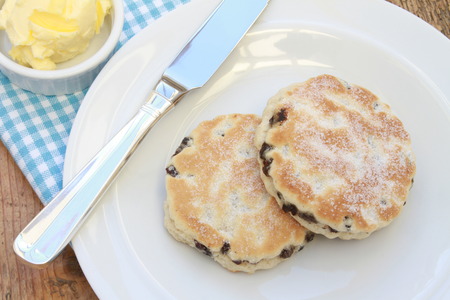 Manuka Honey , Manuka Honey Recipes
Welsh Cakes with Manuka Honey Butter
While not exactly a traditional dessert or go-to breakfast choice here in the US, these Welsh Cakes with Manuka Honey Butter are well worth embedding into our traditions—mostly because this buttery, sweet treat has the power to put the scone to shame! Calling for your favorite dried fruits alongside the unique taste of Manuka honey, these cakes are crumbly, buttery, and taste so beautifully fresh out of the frying pan—especially when slathered in homemade butter that melts right into them.
A dish that avoids the worry of overheating ovens and uses the same practice as flipping a burger, these Welsh Manuka Honey Butter Cakes will have you wondering where they've been all your life.
Ingredients for Welsh Cakes with Manuka Honey Butter
2 cups plain flour, spooned and scraped
1 tsp baking powder
Pinch of salt
Pinch of ground cinnamon
8 tablespoons (1/2 cup) old unsalted butter, diced
1/3 cup caster sugar
1/2 cup dried currants (or raisins, sultanas, dried blueberries)
1 large egg, lightly beaten
1 tablespoon milk to bind, as needed
Additional caster sugar for sprinkling
For Manuka Honey Butter:
8 tablespoons (1/2 cup) unsalted butter, room temperature
3 tablespoons Manuka honey
Small pinch of fine salt
Directions for Welsh Cakes with Manuka Honey Butter
For Welsh Cakes: Whisk together flour, baking powder, salt, and cinnamon in a mixing bowl. Use your fingertips to rub the butter into the flour until it resembles soft breadcrumbs.
Add the sugar and fruit, and then add the egg and mix to form a dough. Add a splash of milk if necessary in case the dough is crumbly.
Roll the dough out on a lightly floured surface (make sure surface is clean before floured) to about 1/4″ thick. Use a cookie cutter or drinking glass to cut out rounds, re-rolling and cutting the scraps as you go.
Rub a cast iron pan with a little butter, and heat the pan on medium-low. Cook the cakes in batches for about 3 minutes on each side, adjusting heat as needed, until golden brown. The heat should not be too high, otherwise the cakes will scorch on the outside before they are cooked through.
Transfer the cooked cakes to a wire rack and sprinkle with additional caster sugar.
For Manuka Honey Butter: Beat together butter, 2 tablespoons of Manuka honey, and a little pinch of salt until smooth, light, and creamy; taste and add more honey if desired. Serve immediately if you want the butter soft and whipped, or transfer to parchment or plastic wrap, form into a log, wrap, and refrigerate until firm.
Most importantly, enjoy your Welsh Cakes with Manuka Honey Butter!
Copyright: neillangan / 123RF Stock Photo
---