February 02, 2020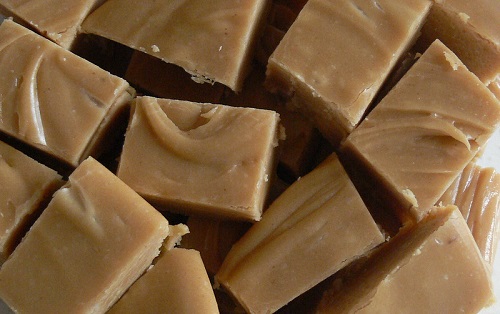 If you love fudge, wait until you add our raw Manuka honey to the recipe! For the full recipe, click here.
It is almost that time of year when people start to go on vacation and one of the "presents" they often bring back is homemade fudge. Now, growing up near the Jersey shore, fudge was something we looked forward to every summer and we all had our personal favorites but for me, peanut butter fudge was about as good as it got. I never thought I would taste anything better until I had peanut butter fudge with honey. Recently, I cooked up a batch using both regular Manuka honey and another batch using Pohutukawa honey and I have to say, just thinking about them makes my mouth water.
Ingredients for Peanut Butter and Raw Honey Fudge
1C granulated sugar
1/4C almond milk
1C natural creamy peanut butter
1T raw honey (use either Manuka or Pohutukawa honey)
5t vanilla extract
To Make:
Spray an 8*8 baking pan or dish with coconut oil (this is going to add a little extra flavor to the fudge as well (you can substitute olive oil if you prefer)
In a small pot, add sugar and milk over high heat
Stir ingredients to combine and bring to a boil
Continue to stir mixture while it boils and cook for an additional three minutes
After three minutes, turn off the flame, then gradually add peanut butter to the mix
Once peanut butter is added and combined, add honey, continuing to stir to ensure all ingredients are thoroughly combined
Add vanilla extract and stir again to ensure ingredients are combined
Pour mixture into baking dish and refrigerate for a minimum of six hours
For best results, allow mixture to remain refrigerated overnight
Now all you need to do is cut it into pieces and share. Or, if you are like me, lock your door and don't open it again until the entire dish is gone!
If you need to order raw honey to make this recipe, please click here. And, remember, we offer FREE shipping on all orders of $150 or more!
In terms of what recipe will work best, if you want a pure honey flavor, use plain Manuka honey. If you would like to add a bit of a rich, caramel flavor, try using our Manuka Honey UMF 16+. Or, if you prefer a bit more saltiness to go with the creaminess of the peanut butter, you will love the flavors Pohutukawa honey adds to the recipe.
Recipe via Pickled Plum. Photo Courtesy of photophnatic via Creative Commons License
---