September 10, 2016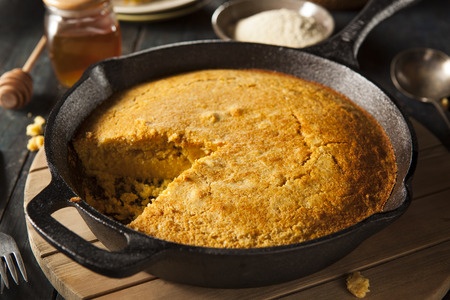 Honey Recipes, Manuka Honey , Honey, Manuka Honey Recipes
Manuka Honey Thyme Cornbread
If you're looking for something different and yet easy enough to make successfully on your first (or second) try, then this Manuka Honey Thyme Cornbread is your best bet! Requiring relatively few ingredients (including the ever favorite Manuka Honey and the hopefully available and in season thyme), this recipe only calls for a few basic cooking or baking tools to get the job done, from various sized bowls, utensils, and a right sized skillet, and the dish can be finished within 45 minutes of prep and cook time. Besides the logistics, this cornbread packs a flavor you've likely not tried before, offering a sweetness and a slight minty flavor while also lacking the spiciness of jalapeños for those who prefer milder cornbread.
If you think this sounds like the right kind of cornbread for your next meal, then copy this bad boy down and get started on your potential new favorite side dish!
Ingredients for Manuka Honey Thyme Cornbread
1 ½ cups yellow cornmeal
½ cup all-purpose flour
2 teaspoons baking powder
1 teaspoon salt
½ teaspoon baking soda
2 eggs
2 cups sour cream
2 tablespoons Manuka honey
1 tablespoon fresh thyme leaves
1 tablespoon rendered bacon fat or coconut oil
Directions for Manuka Honey Thyme Cornbread
Preheat the oven to 450 F.
In a large bowl, whisk together the dry ingredients (cornmeal, flour, baking powder, and salt).
In a separate bowl, beat the eggs, and then whisk in the sour cream.
Fold the sour cream and eggs into the dry ingredient mixture until fully blended and cohesive.
Stir in the Manuka honey and thyme.
Melt the bacon fat (or coconut oil) in the skillet and coat the bottom. Pour any excess into the batter and stir.
Pour batter into a 10-inch skillet and bake for 15 to 20 minutes or until browned at the top and a toothpick inserted in the center comes out clean.
Wait to cool or serve hot and fresh as a side dish or a snack.
Most importantly, enjoy your Manuka Honey Thyme Cornbread!
Copyright: bhofack2 / 123RF Stock Photo
---