November 17, 2018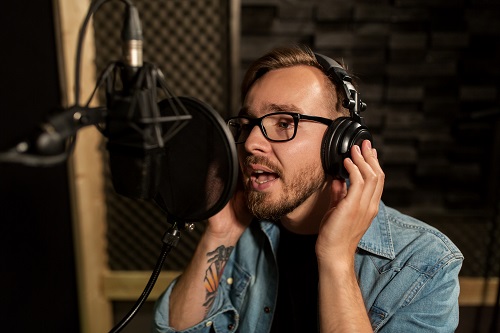 Summer has come and gone, and now flu season has arrived, meaning we're at that special point in the year when the throat is far more susceptible to scratchiness and soreness. For many people, sore throats are a simple annoyance, but for those out there whose livelihood is dependent upon their speaking and singing ability, reliably quick sore-throat remedies are crucial and need to be close by all the time. "Our vocal cords are a muscle, and they need to stay active and in shape while both speaking and singing," Bianca Marroquín, currently starring in Chicago as Roxie Hart on Broadway, said. From salts to organic Manuka honey, here are a few quick fixes for sore throats your favorite pro singer may be using!
Cleansing Salts
According to Caroline Rose, a singer-songwriter with a recently released second album titled Loner, a standard DIY salt gargle is one of the best quick throat fixes available. "I'm basically plagued with throat issues while we're on the road, so I have a preemptive regimen each night of gargling…salt mixed in water," Rose said. "When I'm feeling real spunky, I'll do it in the morning too. Pure saltwater's all-healing; it's an age-old remedy for a reason."
Throat Coat Tea, Lozenges, and the Works
Singer-songwriter Michelle Zauner, who performs using the name Japanese Breakfast, personally goes for throat coat seasonal tea, but she has other solutions at her disposal as well. "I actually am a very loud person and have—knock on wood—never lost my voice, because I'm basically always shouting in my everyday life. But if I have a tickle in my throat, I go on health lockdown, cut alcohol, stop talking, take Airborne gummies, vitamin C raspberry powder with seltzer, and just drink and pee as much as possible until it's gone."
Apple Cider Vinegar
Navid Eliot, a core member of the band Planes on Paper, recommends taking a single shot of apple cider vinegar after you've mixed it with a cup of hot water as well as one tablespoon of raw organic Manuka honey for better warding off runny noses and scratchy throats. "Honey and apple cider vinegar are just good for fighting colds—or so the wives' tale goes," Eliot said.
New Zealand Manuka Honey, UMF 15+
Per Aaron Livingston, an award-winning R&B/soul singer-songwriter and producer known by the name Son Little, "A teaspoon of Manuka honey from New Zealand with as much chopped up garlic as I can handle usually sorts [a sore throat] out, along with gargling salt water." Livingston added that speaking as little as possible during a sore throat is also very helpful, giving him the perfect "excuse not to talk to anyone."
Need to order some Manuka honeyso you can try this sore throat remedy? To get your order started, click here. And, remember, we offer FREE shipping on all orders of $150 or more.
Photo By dolgachov
---