July 02, 2020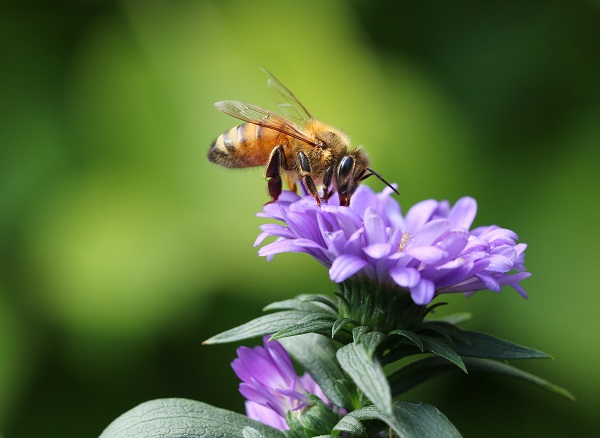 The solar project at PSU is now also being called home by pollinators, especially the honey bee!
In October 2019, we reported that Penn State University had launched a new solar project that was expected to help pollinators. PSU just released more information about its solar initiative and the news is very exciting for honey bee advocates. Just a little more than six months after the project was launched, there are now a wide variety of pollinators calling the new project home.
The university is utilizing roughly 10 acres of land that have solar panels already installed. To help pollinators, a variety of flowers were planted about a month ago under the panels to serve as a feeding ground for pollinators. The different flowers being planted are known to be popular among pollinators, especially our buddy the honey bee.
Harland Patch, assistant research professor of entomology, stated, "Many species of pollinators, especially honey bees, are in decline and need our help to boost their numbers." He added, "Combining renewable energy production with pollinator-friendly habitats is a win-win-win for the environment, pollinators and humans."
The solar array has been on campus for several years now. In 2018, an agreement was made between the Office of Physical Plant and the Alternative Energy Development Group — known as AEDG — a Pennsylvania-based renewable energy developer. As a result of this project and other efforts, Penn State now uses 100 percent "clean" energy. Don Bradley, senior director of energy storage and advanced microgrids for AEDG, stated, "We are proud to partner with a national leader such as Penn State to advance learning about the benefits of renewable energy. 6+6When we started in business as practitioners 30 years ago, we had solar leaders who mentored us, and we want to share our knowledge with the next generation of conservationists."
While the school has other solar projects to supply its energy, the one on Orchard Road near the sports stadium (Beaver Stadium) is the first project to also include the habitat for the pollinators. Meghan Hoskins, director of operations and partnerships for the Sustainability Institute, stated, "Renewable energy projects themselves are very important and necessary due to the associated reduction of greenhouse gas and other emissions associated with the generation of electricity. However, projects like this one demonstrate the potential for tackling multiple challenges at one site — in this case, making smart use of the land under the solar farm for increasing pollinator biodiversity."
This project is not only a success for the school, but it has also been made possible by a PSU alumni. Calvin Ernst, president of Ernst Conservation Seeds, donated 32 million seeds for this project.
To see the full press release on the project, click here.
Source: PSU.EDU, Photo By Anterovium (Envato Elements)
---