September 12, 2019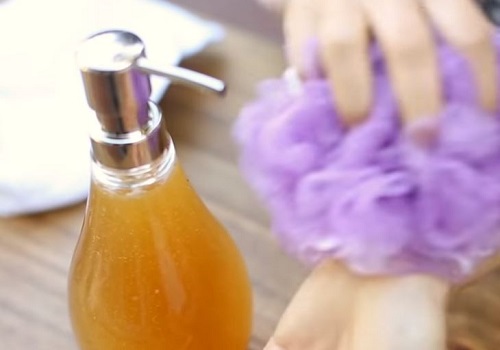 Manuka Honey Products For Skin Care
You know we love beauty hacks, and we found a pretty interesting one on a homesteading site. Tara Dodrill, who is a prominent and very well-known writer in the homesteading and survival niche, published a recipe using our favorite ingredient, raw honey, and coconut oil for a body wash that will not only possibly save you money over time, but it will also provide you with a body wash that is not packed with harmful chemicals.
In addition to raw honey, the recipe calls for a carrier oil, such as coconut oil, a Vitamin E oil, and your favorite essential oils. Essential oils are a great way to add a natural scent to the wash as well as receiving the benefits of the essential oils. For instance, if you generally wash at night, Lavender may be the best option, as it is widely regarding for its sleep benefits as well as being ideal for those with sensitive skin and a wide variety of skin conditions, such as psoriasis and acne.
Here is a complete breakdown of some key essential oils courtesy of Mrs. Dodrill:
Lavender – Good for folks with sensitive skin, psoriasis, acne, and mature skin. Chamomile – Superb for users with dermatitis, acne, eczema, and dry skin. Geranium – This essential is great for folks with oily skin, dull skin, eczema, acne, and dermatitis. Patchouli – If you want to make an all-natural body wash with a unisex scent, try this essential oil. It works great on oily skin and chapped skin. Sandalwood – This is another oil that is superb to use when dealing with chapped skin, acne, and dry skin. Sandalwood could work wonders on wrinkles as well. Ylang Ylang – If you are struggling with acne, oily skin, or easily irritated skin, consider giving this essential oil a go. It is a lot stronger than most other oils on this list, so adjust the amount used down slightly from the recommendation recipe measurement. Sweet Orange – This essential oil has an amazingly sweet scent and is excellent for use on oily or dull skin. Grapefruit – Use grapefruit essential oil if you are frustrated over alleviating oily skin. It also smells really sweet and pleasant. Peppermint – This oil has wonderful astringent properties and leaves the skin feeling ultra refreshed. Speak with your OBGYN before using this particular essential oil, or any essential oil, during pregnancy or while nursing. Peppermint is also a wonderful natural way to help prevent or lessen symptoms often associated with menopause. It has a strong scent, so I recommend reducing the amount recommended in the recipe measurement slightly. Tea Tree Oil – This oil does not smell sweet. It kind of reminds me of turpentine, but when blended with more fragrant oils, it is nice. Tea tree oil has often been dubbed "nature's antibiotic" and is awesome for treating common skin rashes, oily skin, acne, and inflamed skin. Rosemary – Like peppermint essential oil, rosemary leaves the body tingly and feeling refreshed. It is great for treating dermatitis, acne, and eczema. It is not recommended for use by pregnant women, folks with high blood pressure, or a person who is epileptic. Vanilla – This essential oil smells delicious, and the scent can last all day on your body or your hair. It blends exceptionally well in my DIY all-natural coconut milk body wash recipe.
Raw Honey and Coconut Oil Body Wash Ingredients:
¼ c raw honey
2/3 c coconut oil
2t sweet almond oil
1t Vitamin E oil
As many as 50 drops of your favorite essential oil(s)
To Make:
Add all ingredients except the essential oils to a squirt bottle or another container that will be easy to dispense the body wash.
Put lid on container, secure, and shake to combine all ingredients.
Remove the lid after the ingredients are well-combined and add essential oils.
Replace the lid and shake vigorously against until all ingredients are well combined.
That is all there is to it. Now you have a body wash that is ready for use! Just make sure you shake the mixture prior to each use to ensure the ingredients are all combined.
This product will remain shelf-stable for about 12 months, however, during the fall and winter, you may find the honey and oils have thickened to the point you cannot dispense the DIY body wash. When this happens, just warm the bottle or jar to loosen the contents, shake, and you are good to go!
If you would like to order some raw honey to make this homemade body wash, click here. And, remember, all orders of $150 get FREE shipping.
Recipe courtesy of New Life on a Homestead via Tara Dodrill.
Photo via Honeysuckle Youtube Video Screenshot
**for this recipe, we highly recommend you use regular Manuka honey rather than the UMF Manuka honey.
---