May 24, 2019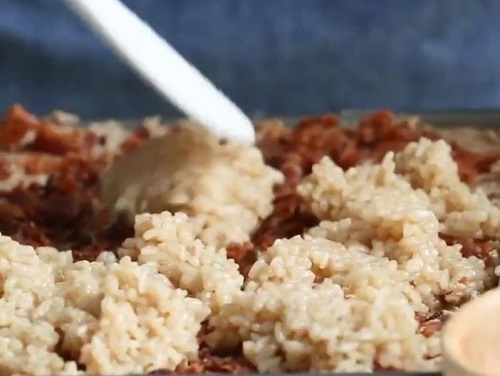 Eating Healthy, Eating Healthy, Health, Manuka Honey Recipes
As an endurance athlete, one of the biggest challenges faced is finding the proper nutrition you not only like to eat but that will also NOT result in rotgut. The longer you are out there, the more likely this is to happen due to the high sugar and additives content of most store-bought products.
The obvious solution to this is to find real food that can double as a homemade energy bar. For me, everything changed when I started making my own rice balls from a recipe I found on the Skratch Labs website. I ended up buying their cookbook, which meant making all my own food for endurance events and not wasting money on energy bars.
The recipe below can be tweaked in numerous ways, which I will mention later. Since I have a cooking background, I was more than willing to play around with the original recipe until I had about four or five different versions of it. Before I knew it, my riding buddies were digging into my back pockets trying to steal all my rice cakes!
The Original Skratch Labs Recipe:
3 cups uncooked Calrose rice
4 cups of water
8 ounces cooked bacon
1 cup warmed almond butter
Braggs Liquid Amino's to taste (can sub Soy Sauce if you cannot get Amino's)
1/4 cup rice vinegar
maple syrup to taste
salt to taste
optional: add olive oil to rice mixture to help hold everything together
To Make:
Steam rice in steamer (can cook on the stovetop if you don't have a rice steamer.
When rice is done, add Amino's, rice vinegar, maple syrup, and salt to taste, and mix until all ingredients are combined.
Spread rice on a cooking sheet (use only half of the rice), add a layer of warmed almond butter, crumbled bacon, then add the second layer of rice mixture.
Cut into squares, wrap, and take them on your ride.
Now, I was having problems eating the bigger squares, so I changed this to rice balls that I would scoop out with a small scooper and wrap loosely with foil. On the bike, I was now able to quickly unwrap the rice ball with my teeth and one hand (we had horrible roads, so taking both hands off the bar was NOT an option), then pop the entire thing into my mouth.
One of the best discoveries I made was to substitute Manuka honey for the maple syrup. I also traded out the almond butter for different nut butters and even added different jams to the recipe to give them a bit more flavor. In fact, one variation just used bacon, peanut butter, jam, and manuka honey, which was like eating a PBJ!
Personally, I recommend using the Manuka Honey UMF 16+ for the recipe. It is more expensive than regular Manuka honey, but it also has a much richer, almost caramel-like taste to it, which really makes these rice balls even more palatable.
Based on the ingredient combo, you will find these are very much in line with your energy bars but taste far better, especially when you use Manuka honey! Furthermore, you will actually look forward to eating them, which is far less than I can say about any energy bar or gel I ever ate while riding.
If you need to order some Manuka honey to make this recipe, click here. And, remember, we offer FREE shipping on all orders of $150 or more.
Recipe Photo via Skratch Labs Website and Video
---