May 14, 2020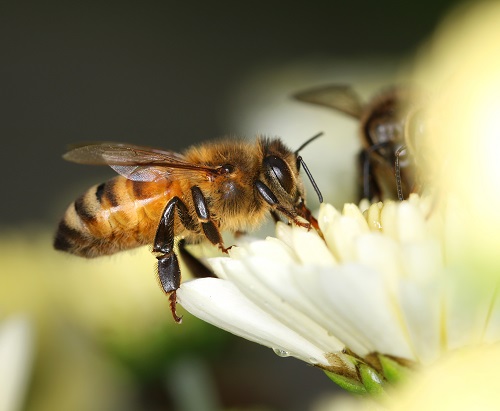 A very interesing new study that takes a completely different approach on how to get our honey bees through the winter season in better shape.
A new and very interesting study has been released that offers a new way for honey bees to fight off illness and death from pathogens and other possible threats. The Agricultural Research Service (ARS) has published a study in Apidologie that says honey bees need to eat healthier.
According to the study, poor nutritional habits have contributed significantly to the decline of honey bee populations. Their poor eating habits have opened them up to be more susceptible to the triple p's: parasites, pathogens, and pesticides. The reason bees are eating so poorly? The report cites declining habitats, a lack of plant diversity, and large tracts of crop monoculture.
ARS entomologists Vincent Ricigliano and Michael Simone-Finstrom are reporting that the microalgae Arthrospira platensis (commonly called spirulina) can serve as a replacement for pollen for honey bees. This is part of the blue-green algae family. The algae are reportedly rich in both lipids and amino acids that honey bees require and usually get from the pollen they digest.
This is a very interesting approach to take to attack the problems honey bees have been having in recent years, but it does point to something we have pointed out many times as a problem. During the winter for a wild hive, the bees use the honey they create all spring and summer to feed on. With managed hives, that honey is harvested, so beekeepers have to provide the nourishment for their hives. In most cases, bees are fed sugar water and sometimes protein cakes are also provided. Point being, it is far from what the honey bees usually eat and it is definitely not as nutritious. Considering most hive loss of life happens over the winter season, these two researchers could really be on to something here.
Ricigliano stated, "Our work is a pioneering first look into the nutritional and functional properties of a single microalga and how well it corresponds to what is needed in a complete pollen substitute for the honey bee." He further stated, "So the need to scientifically improve the efficacy of pollen substitutes can be considered vital to modern beekeeping and we need to think about how we can do it in a sustainable way."
While beekeepers may him and haw at the idea of using algae to feed their bees, it is not as difficult as one would think. Ricigliano stated, "All it takes are shallow ponds, nutrient salts and sunlight to produce highly nutritious microalgae." Seems like a small investment to make if it will reduce winter loss and keep our honey bees healthy for the spring harvests.
Source: Genetic Literacy Project
To read the full study report, click here.
---