January 19, 2020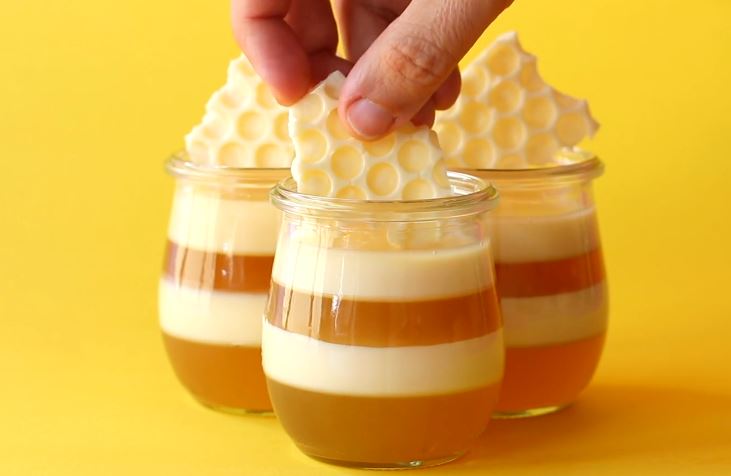 After a day of eating ribs and wings, your guests are going to want a Super Bowl party dessert that will satisfy their sweet tooth. Read more...
Honey, Manuka Honey Recipes, Raw Honey
We are going to make a fairly safe assumption that most of your Super Bowl food is going to be rich and hearty. So, after a steady dose of wings, ribs, and crab dip, most of your guests are probably going to have a sweet tooth that is going to need to be appeased. This particular dessert is not something you are going to be able to throw together quickly in a pinch, so make sure you set enough time aside to make these at least a day ahead of time to ensure the dessert has time to settle for this very unique presentation.
Ingredients for Raw Honey Pudding Pots
3T gelatin powder * 2
3T water * 2, 1 cup water
1C raw honey * 2
½ cup sugar * 2
Honey Pudding (can sub other flavor if you prefer)
2 cups cream
White chocolate, melted
To make:
Prior to starting, place four serving glasses in the freezer (these will remain until you are ready to start setting the mixture)
First, we want to make the decoration for the dessert using the melted white chocolate – spread a piece of bubble wrap out, bubble side up, then spread melted white chocolate on the wrap.
Place bubble wrap with white chocolate into the fridge and allow to set for at least 30 minutes.
To make the honey jelly layer, add 3T water and 3T gelatin powder to a mixing bowl.
Mix both ingredients until well-combined.
Allow the mixture to sit for about five minutes, then microwave for 20 seconds.
In a medium saucepan, add ½ cup sugar, 1 cup raw honey, one cup of honey and bring to a boil.
When mixture boils, remove from heat and add gelatin mixture, then set aside to cool slightly.
To make honey pudding, repeat steps 4-6.
In a medium saucepan, add 2 cups cream, 1 cup raw honey, ½ cup sugar and bring to a boil.
Remove from heat and add gelatin mixture, stir to ensure all ingredients are combined.
Remove glasses from freezer, and pour ¼ cup of honey jelly mixture into bottom of glass.
Place glass back in fridge for 20 minutes to allow to set, then add layer of pudding. Add another layer of jelly, then refrigerate again for 20 minutes before adding final layer of pudding.
Remove white chocolate on bubble paper and break into small pieces (should look like a honeycomb) and garnish desert.
Need to order some raw honey to make this delicious dessert? To get your order started, click here and remember, we offer FREE shipping on all orders of $150 or more.
Recipe and Photo via Tastemade
---