February 20, 2018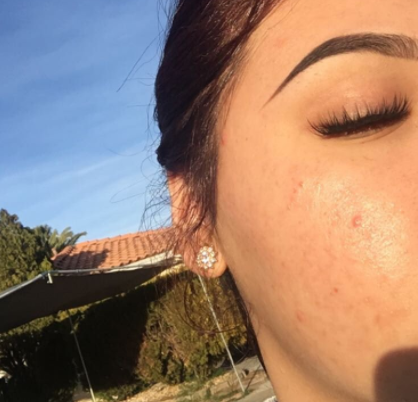 Manuka Honey Products For Skin Care, Health, Raw Honey
Earlier this month, a teen's Twitter account blew up after she posted a before and after picture. The reason for the 12,000 likes and 3,600 retweets? The amazing picture of the acne problem she had on her face before she started using a homemade remedy to treat it and the results afterwards.
According to Allure, the young lady's name is Hilda Paz Robles and she lives in Las Vegas. Her before picture, which is just below, showed a close up of the cystic acne on her face. Next to it, as you can see, is a significantly improved photo barely showing any acne at all. The reduction is quite amazing.
But, rather than give out her secret treatment, Hilda simply wrote "Came a long way .. before and after trust the process." With the remarkable improvement, everyone wanted to know her secrets and she finally gave in and told everyone she treated her condition with "green tea with honey is all it was."
Allure wanted more detail into exactly how the young lady treated the condition, so the publication reached out to her for more information. She told them she had a sudden outbreak last spring, and stated, "To this day, I'm not exactly sure what caused it. Lots of people tried to tell me it was hormones. Lots of people tried to tell me it was an infection."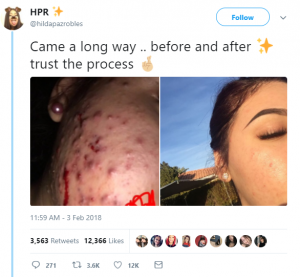 Seeking any help, she visited her aunt, who told her to give parsley tea a chance. Not liking tea, her aunt then suggested she try green tea. She started drinking the green tea with raw honey three times a week. In addition to drinking the tea, Hilda also made a homemade mask from the tea and the raw honey.
"I'd leave it on for at least 30 minutes. The max is probably two hours. I was just chilling around the house like that," Hilda stated. Initially, she was using the mask about three times a week, but now only needs to do it once a week.
She realizes there are a lot of doubters out there, stating, "A lot of people don't believe me. I'm not saying it's going to work for everyone because I tried so many different things before that, and nothing was working."
There just might be something to Hilda's claims, though, as Dermatologist Judith Hellman backed up her claims, stating, "Green tea is an amazing anti-inflammatory agent, so it helps treat rosacea and even acne."
A second dermatologist, Kavita Mariwalla also stated, "It [raw honey] works to make inflammatory acne look less angry because it has an osmotic effect on the skin. It can draw out [excess fluid] and help reduce inflammation."
Will this work for everyone, we have no idea, but why not give it a try? And if you do, we want to hear your story!
If you want to order some raw Manuka honey, just click here to get your order started.
Photos via Hilda Robles Twitter
---