November 02, 2017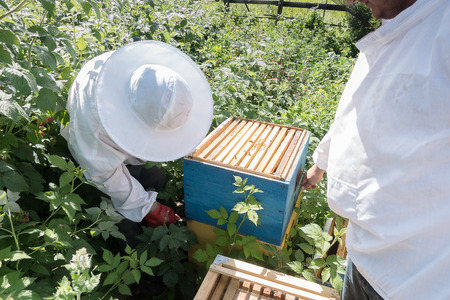 Bee Colony Collapse, Honey Bees, Honey Industry
While there has been an influx of beekeepers joining the fray to both help honeybees and make a living selling honey and other bee products, it's safe to say that the majority of beekeepers in the industry are in their 60s or 70s. This begs the question of who's going to take up the mantle when the veteran generation retires. Well, it turns out the answer can be found within a bee hive—the jobs in hives are typically guided by age and physical condition, but the worker bees in the hive's brood nursey range from old to young, as the aged bees instruct the younger, often newborn bees how to do their jobs for when the elders flap their wings one final time.
Guiding the Next Generation
That type of mutually beneficial relationship provides the perfect example for beekeepers, as Lewis County, Washington's Beekeepers Association has proven specifically through a youth fellowship program they started back in 2014 for two students in Toledo. This program, which moves every year between towns to reach more students, helped another pair of students in 2015 in Onalaska and then Chehalis and Napavine in 2016. This past year, which saw the fellowship program expand to three openings, brought in aspiring beekeepers from Bucoda and Centralia.
A Prime Example
One of these students, Rylea Powell, 13, a homeschooled student, has been raising bees under the guidance of Gottfried Fritz, 71, who has been caring for honeybees since the age of 15 when his older brother joined a family of beekeepers through marriage. According to Fritz, there have been many changes in his field in the last 55 or so years. "In the 50s and 60s, beekeeping was not so labor intensive because we didn't have the problems with mites and things like that. It used to be that you would put some bees in a box, put them in a favorable location, and then come back and harvest the honey," Fritz said.
With the work that's required to stay in front of the many problems honeybees are facing, Fritz has noted beekeeping has favored retirees since they likely have more disposable income and time to commit to their hives. Fritz, while happy another beekeeper is joining the ranks, understands the importance of teaching beekeeping intricacies to the next generation, so humans and honeybees can continually flourish together.
Learning From Each Other
Powell, on the other hand, became interested the past fall in beekeeping upon hearing about the LCBA fellowship. Despite being afraid of honeybees when she initially started, Powell claims she overcame this fear through the help of both Fritz and her mother, with the former teaching her to be confident and calm, even when facing 60,000 stingers. "I like watching how they work as a team," Powell said. "I like spotting for the queen, even though I can't always find her. That's my favorite part." Powell, who received a donated hive as part of the program, even grew her apiary by saving a bee swarm that settled in her family's pasture.
The young beekeeper has been working to persuade peers to learn about beekeeping, but most have so far only wanted to hear how "scary" it is to work with honeybees. However, anyone who's genuinely interested in learning the honeybees' truly intricate, delicate nature, she fully recommends the LCBA fellowship program. For Fritz, who's been mentoring for about two years, the course of enlightenment and learning keeps him returning to help nurture the newest generation of bee stewards. "The best part of mentoring is seeing the people when they see how involved the entire hive society is. It's just so intricate," Fritz said. "To me, it's inspirational."
Copyright: fortsite / 123RF Stock Photo
---