September 08, 2017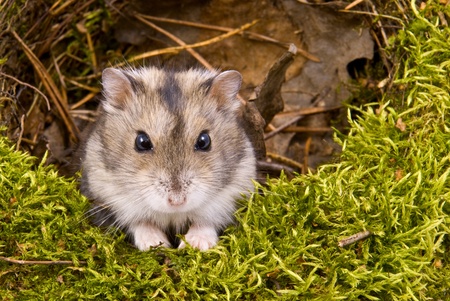 Everyone knows what a hamster is—some of us may even have one as a pet or did once—but few have likely heard of a specific breed called Chinese striped hamsters or simply striped hamsters. A striped hamster, Latin name Cricetus griseus, isn't technically dwarf-sized, but it is the same size as other similarly small hamsters. Originally from Mongolia and China, these tiny creatures made their way across the Pacific through one or another, and now even more people here in the states have taken them on as pets. Striped hamsters aren't bred that often and can be difficult to find in pet stores, with some states like California even requiring a permit to own one, but that doesn't prevent these critters from entering people's homes and hearts. To learn more about them, check out our guide below.
Appearance and Life Span
As can be expected from a small animal, striped hamsters, as with other breeds, live only up to about three years. In terms of their size, adult striped hamsters can reach roughly four inches long, meaning they are slender enough to move between the bars of most hamster cages. This means an aquarium is the better option for housing this small breed of hamsters for those who don't have a dwarf hamster cage. Also, it can be easy to lose sight of such a small animal while playing with one outside its cage, so be cautious and never take your eyes off it.
In terms of the rest of a striped hamster's typical appearance, this includes an agouti natural coloration (dark and light-colored banded hairs, like a wild rabbit's), a black line along the spine, and an ivory colored belly. This hamster's tail is hairless and roughly one inch long, causing some to call striped hamsters mouse-like or rat-like.
Personality
Striped hamsters are largely nocturnal, but they can be active in the daytime for short periods as well. They are also known for being timid but generally well-natured, rarely biting. Because of how active they are, a larger cage would be better for preventing boredom or else they could develop a suppressed immune system, get cranky, or chew on everything they can sink their teeth in.
Some experts say striped hamsters, specifically females, might become aggressive with other hamsters as they age and have to be separated. Others, however, disagree, saying they can be kept in groups or pairs if introduced very young in a large enough cage. To be safe, plan to house hamsters separately, keeping them together only if there are no signs of aggression.
Taking Care of a Striped Hamster
Caring for striped hamsters is much like caring for other hamsters though, as previously mentioned, a large aquarium would be preferable to a standard wire cage. For this cage, avoid pine or cedar wood shavings, and clean it regularly since unclean cages accumulate urine. This produces ammonia buildup because ventilation is reduced in solid-sided housing, which is why an aquarium needs to be cleaner than a wire cage. Choose high-quality hamster food that is supplemented with slight amounts of fresh food, such as vegetables. You can offer smaller treats – fruit, nuts, crackers, Manuka honey, and cereal – to help hand tame your striped hamster.
Copyright: viselchak / 123RF Stock Photo
---