August 15, 2019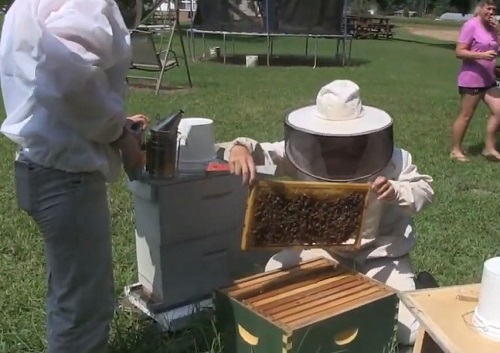 We have long been advocates of educating the next generation on the honey bee and William & Mary is incorporating a new program that will do just that. The University is partnering up with KelRae Farm to incorporate honey into its student dining menus. The hives producing the honey will also be integrated into the education of the William & Mary students interning with Stephen Moyer, who is the W&M Sadler Center Court Operations Manager.
New Venture for William & Mary
Moyer manages the dining inters for the University. As part of that program, the school has a farm to table problem that is run with KelRae Farms. Currently, the school has several vegetation rows at the farm for this program. Now, they will also have beehives!
Moyer stated, "KelRae Farm had some bees. And I've always been interested in bees just because of what they do for pollination, and there's been a massive decline in them. And I just thought well, that would be cool if we could help the farm as a whole bring in pollinators. And then as an afterthought to pollination would be to develop what we can do with honey."
Director of Auxiliary Services, Cindy Glavas, stated, "W&M's dining program has benefited from the fresh local produce that is planted and harvested each year by Dining Services staff and interns at KelRae Farm. Being able to source local honey will be another great addition to the program from that partnership."
On the new program, Calandra Waters Lake, who is the Director of Sustainability, stated, "Our partnership with KelRae Farm has blossomed — pun intended — under Stephen and the dining sustainability interns. From dining halls receiving food grown on the farm with our own campus compost, to Sadler Terrace Farmers Markets, to team building and learning opportunities working the W&M rows, the connections continue to grow."
New Menu with Honey
The school will be integrating the honey from the bees into its next menu. When classes resume this fall, they will now have a homemade honey balsamic salad dressing with the honey the students harvested. Other items that are being considered are a variety of bakery items that would incorporate the raw honey into the recipe. As time passes, Moyer stated that he is hoping the hives will produce enough honey so the school can sell it at local farmer's markets.
Currently, the school only has two hives, which consist of about 200,000 bees, so production is minimal compared to larger commercial operations. Moyer stated it took the students about three hours to harvest the honey it took the bees about three years to produce. That being the case, currently, he is hoping to stretch the honey out as far as possible to get the most from their bounty.
In addition to using the honey and possibly selling it, the program is allowing its interns to work with the KelRae Farm beekeeper to mentor anyone that is interested in becoming a beekeeper in the future. This is also a great way for the kids to learn about honey bees then, hopefully, pass that education on to their fellow students.
Have you ever tried raw honey? If you think you might enjoy it, try our Manuka honey! This honey is far richer and has a completely unique taste. While the regular Manuka honey is good, our UMF honey's have a rich, caramel-like flavor people absolutely love. For more information about Manuka honey or to make a purchase, please click here. And, remember, we offer FREE shipping on all orders of $150 or more!
Source: William & Mary, Photo via William & Mary Youtube Channel Video Screenshot
---