July 09, 2017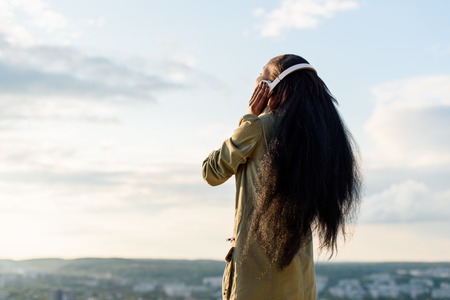 In this day and age, it is not exactly difficult to go on social media or websites like YouTube and try to acquire followers and become known by a lot of people. You just create an account and start posting content whether it is songs, comedy videos, life-threatening stunts, what-have-you. Sometimes, people do not get what they are looking for. Other times, people are successful and get attention or even careers—just look at Marié Digby or, in an extreme case, Justin Bieber. It takes a lot to get your voice heard and even more to make an impact---something that artist, model, and activist Gabrielle Richardson has learned and perfected so well, even at the young age of 22.
Gabrielle Richardson
A native of New York and moving between NYC and Philadelphia, Richardson has already made a great impact in a fairly short time whether as a curator, a visual artist, a model, or as the new face of the women's clothes line "Cotton On Body," specifically its active wear lines. One small piece of that impact? She is involved in the "Art Hoe Collective," which is a reflexive bastion of art created by people of color as well as those who identify as queer. Richardson once described the collective as "a space…for us by us."
Spreading Love
As recent as June 19, Richardson took her growing Instagram following and showed her support for Pride Month 2017, a month that has always landed in June in order to honor the Manhattan Stonewall riots of 1969. Richardson, who identifies as queer, eschewed all political talk and the still rampant hostilities on all sides, focusing instead on the phrase "love each other" displayed on her shirt and the gratitude she feels for the privilege to freely express herself and her identity. She also acknowledged the sufferings of many members of the LGBTQ community who are denied that same privilege. While she is new to her growing spotlight, Richardson likely provided enough reason as why people ought to pay attention to her effective voice.
Free Advice
Richardson was fortunate enough to be interviewed in the past few weeks by Elle as someone on their "radar," even calling her a "future president." Besides naming her favorite coffee drink (soy chai latte), things she can't live without (her charger), favorite skin care product (Manuka honey moisturizer), and her guilty pleasure (Swedish Fish), Richardson also named the best advice she was ever given: "Stay true to yourself; fight the good fight." We'll just have to see where she goes from here.
Copyright: andriikobryn / 123RF Stock Photo
---