December 19, 2019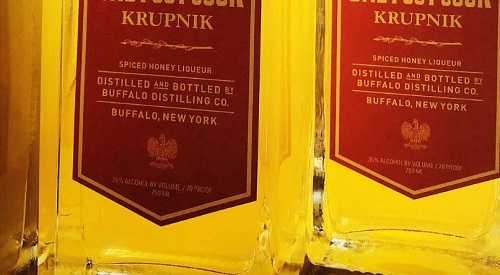 The holidays bring those rare favorites out of the closet to enjoy for just a few weeks. That pumpkin spice creamer, pecan pie, honey glazed ham, and yes, Krupnik. No idea what it is? Well, you better get with it soon, because the window to grab some is closing rather quickly. A local distillery in Buffalo, NY makes only about 500 bottles for the season, and it won't last long.
What is Krupnik?
The most basic definition of Krupnik is a polish liquor made with raw honey. It has always been popular around Easter, but the Buffalo Distilling Company (BDC) is now making a different version for the Christmas season. For Christmas, BDC is adding a little more kick to the product. Director of Hospitality and Pleasures for the Buffalo Distilling Company, Roy Bakos, stated, "We take our Krupnik, and we put it in spent bourbon barrels, and we age it for 12 months in bourbon barrels."
Andy Wegrzyn, company President, stated, "The roads go like this - the original is the sweeter, lighter, then the barrel-aged is more like a whiskey. So the whiskey guys say they like this." The only problem is that the company will only make 500 bottles of the "new" batch. Head Distiller Kevin Ford stated, "That's it. It's super limited. Because it does take time. It's a product that gets a lot of love and attention. Which is a luxury we have as a small spirits provider."
The one very unique thing about the product is that virtually all the "raw materials" come from the Buffalo area. Bakos stated that in all, 98 percent are from New York State, with 95 percent coming from the five counties around Buffalo. Ford stated, "We're bringing in grains from right here in Buffalo, and putting out a product right here in Buffalo. And that's important to us."
Since the new Krupnik is aged in bourbon barrels, we found a great recipe to enhance this unique flavor.
Ingredients:
2oz Bourbon
1oz Krupnik
Dash Angostura bitters
Dash citrus bitters
Lemon peel
To Make:
Fill shaker with ice
Add all ingredients and stir
Pour drink into a chilled martini glass
Squeeze lemon peel to add oils to drink, then use as garnish
To learn more about BDC's Krupnik, click here.
Source: WKBW, Picture via Buffalo Distilling Company website
---