April 08, 2020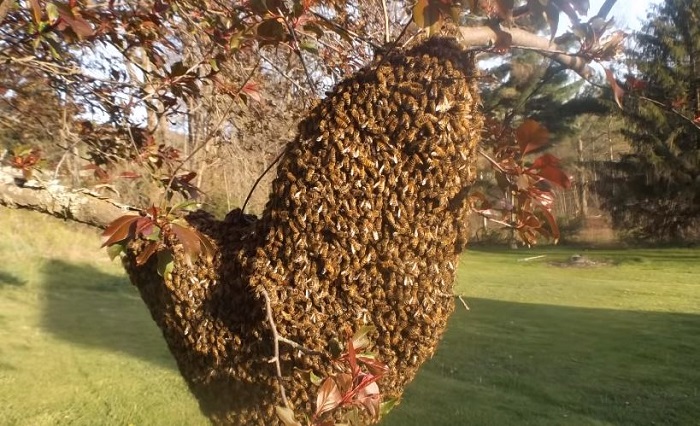 Swarms mean free bees for beekeepers! Read more...
Most of our country may be in quarantine, but our honey bees are just starting to come out of their self-imposed quarantine. Spring weather is sweeping across the country, which means hives are getting ready to come back to life. For wild bees, this means swarm season, where many different hives will leave their home to find a new one.
This is one of the most amazing things in nature if you have ever seen one. This is also a great time for beekeepers to restock their managed hives by capturing wild honey bees. And that is exactly what Colorado beekeepers are ramping up to do.
Berthoud, Colorado has a robust beekeeping community. This is home to the Northern Colorado Beekeepers Association (NCBA). Tim Hardy currently presides as its president and about 40 of the roughly 350 members live in this town. When swarming season stares, volunteers from the NCBA volunteer to capture and/or remove the swarms.
So, why is swarming so prevalent in this area? Local beekeeper Bruce Rice thinks it has something to do with where some hobbyists are keeping their bees. He stated, "I think a big part of it is it's an agricultural area, and a lot of people think they can't keep bees in more densely populated places. But I've seen people who have them on their porches in apartment complexes."
As most of you know, the die-off in recent years has escalated significantly. Another study was recently released estimating that the rate is once again around 40 percent. Having to restock such a high percentage of bees can be costly, which is why the Swarm Hotline was created by the NCBA.
When swarms are spotted, people can call the hotline and one of the volunteers will show up to capture the bees. While it sounds like a daunting task, Hardy says it is not quite as dangerous and scary as people think. The trick, according to Hardy, is to get the queen into the box. If you can manage that, the rest of the hive will follow.
From that point, he puts the bee box in his car and takes it to its new location. As far as being worried about a car full of bees, that seems to be an afterthought to Hardy. He stated, "People go, 'Oh my gosh, you're really going to put all of those bees in your car? They freak out with one bee in their car, so it really freaks them out that I'm going to be driving away with 20,000 bees in my car."
So, if you live in or around Berthoud and see a swarm, call 970-658-4949, and a member of the NCBA will be there in a flash to remove the bees free of charge.
Source: Loveland Reporter-Herald, Photo via Donald Porta YouTube Video Screenshot
---