April 05, 2020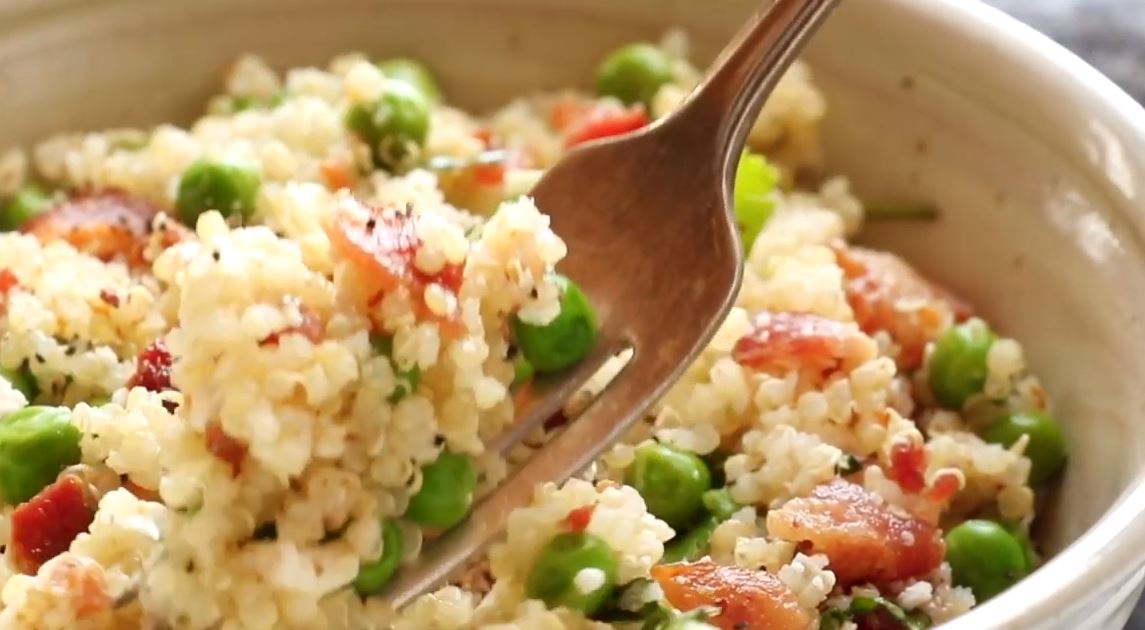 Looking for a light, refreshing salad recipe that is not the usual lettuce and tomatoes? This quinoa salad is perfect for spring and adds a touch of honey!
Eating Healthy, Eating Healthy
Even though most of us are sadly stuck in our homes right now, that is no reason to sulk and eat unhealthy foods. Now, more than ever, we need to stay on top of our diets to both stay strong as well as not putting on unwanted pounds. This quinoa salad is light, refreshing, and will remind you that better days are to come.
Quinoa Salad with Honey-Lemon Vinaigrette Ingredients:
For the salad:
1c uncooked quinoa
1/2c feta cheese
6 slices of bacon, cooked well done and crumbled
2-3c frozen peas
1/2c basil and cilantro blend, freshly chopped
1/2c almonds, finely crushed (use food processor)
For the dressing:
1/3c olive oil
1/3c fresh lemon juice
3T raw honey
1/4t salt (can add more to taste if desired)
To Make:
Cook quinoa according to package directions (ideally, you make it the day before to allow it to chill before using)
Using a medium pot, boil water then remove from heat
Add peas, then cover (this will help prevent the peas from getting that wrinkled look they often do when cooking)
Keep the peas covered until they have a bright green appearance (they should be ready to eat at this point, but check a few of them just to make sure)
When peas are fully cooked, drain excess water, then toss with quinoa, feta cheese, bacon, herbs, and almonds – toss ingredients to make sure they are all well combined
Using a food processor, combine all dressing ingredients and blend.
Add dressing to salad ingredients and toss again to ensure the dressing is distributed thoroughly.
Salad can be served on its own, with crackers, or served over salad greens.
The salad will hold for about two days in your refrigerator. It will gradually soak up the dressing and after about two days, the taste dramatically changes.
Each serving is only about 400 calories, so this is something you can even make as a snack rather than gobbling down chips or ice cream late at night. That touch of honey should help keep that sweet tooth satisfied!
If you need to order some raw honey to make this recipe, please click here. And, remember, we offer FREE shipping on all orders of $150 or more.
Recipe via Pinch of Yum, Photo via Pinch of Yum YouTube Video Screenshot
---