February 20, 2019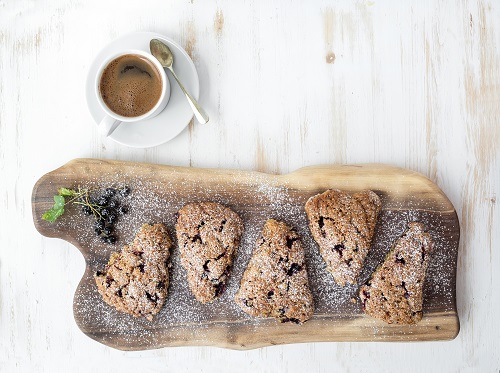 While there have been a few warm spots here and there, it has been a fairly cold February thus far. Though we can't do anything about the weather except wait it out, one thing you can do is bake something warm and fresh for yourself, and you can start with these currant-walnut scones with Manuka honey butter.
Ingredients for Currant-Walnut Scones with Manuka Honey Butter
2 cups of flour
¼ teaspoon of baking soda
2 teaspoons of baking powder
3 tablespoons of sugar
½ teaspoon of salt
1 stick of unsalted, cold butter, cut in 1 tablespoon slices
¼ cup of walnuts, broken in small pieces
½ cup of currants
½ cup (heaping) of plain yogurt
1 egg, beaten lightly
¼ cup of sugar, to sprinkle on top
Manuka honey butter: 2 tablespoons of Manuka honey
1/2 a stick of butter, softened
1/2 teaspoon of salt (or to taste)
Directions for Currant-Walnut Scones with Manuka Honey Butter
To begin, preheat your oven to 425 degrees Fahrenheit on the Bake setting.
Using a medium-sized bowl, whisk together the flour, the baking soda, the baking powder, the sugar, and the salt. Using two knives or one pastry cutter, cut the butter up until it's in small tablespoon-sized pieces.
Stir your walnuts and currants into the mixture. Make a small well at the center of the mixture and pour the egg and plain yogurt in gently. Mix all the ingredients together until they have combined well to form a dough.
Gently knead the dough on a clean, lightly-floured work surface, and then pat it down to a ½- to 1-inch thickness. With a properly-sized biscuit cutter, start cutting scones out and placing them on a rimmed baking sheet.
Reform your dough again to make a circle and cut more scones out until you have used all of the dough. Sprinkle the scones with sugar, and then bake them for roughly 12 minutes till they have developed golden-brown color.
While the scones are baking, you can work on the Manuka honey butter. To make it, mix the Manuka honey, a half stick of butter, and a ½ teaspoon of salt (or enough to taste, so maybe a pinch) together in a small bowl. Serve the butter with the scones once they come out of the oven or until they have cooled—it's up to you!
You can store these scones for up to two weeks in a sealed, airtight container or you can freeze them for up to three months.
Need to order some Manuka honey to make this delicious recipe? To get your order started, click here. And, remember, we offer FREE shipping on all orders of $150 or more!
Photo By sonyakamoz
---