October 09, 2019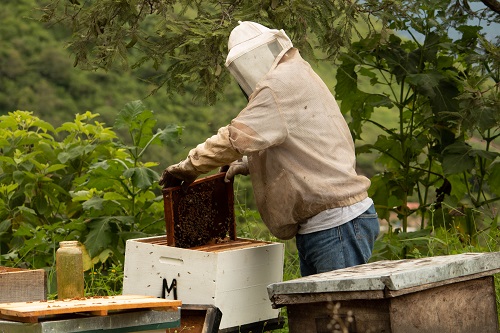 Bee Colony Collapse, Honey News, Honey Industry
Just as the honey industry here in the United States has been impacted by massive losses to honey bee hives, so has honey production throughout Europe. Honey producers all over Europe are reporting numbers that are at or near record lows. In some cases, honey production is only a small fraction of what it was decades ago.
Decreased Harvesting
The massive losses to hives hurt honey producers in several different ways. There is the obvious loss of honey bees, which can cost beekeepers tens of thousands of dollars to replace if they decide to purchase bees. If they choose to continue on with their supply of bees, honey production is dramatically reduced simply due to fewer bees working to produce the honey. Additionally, the beekeepers are less likely to fully harvest the honey produced in fear of not leaving their remaining bees enough food to survive the winter.
Climate Change Problems
In addition to the winter problems, European beekeepers are also complaining of problems as a result of climate change. According to the latest reports, due to the excessive heat from the summer, colonies have had the beeswax melted, resulting in losses of entire colonies of honey bees. One Italian beekeeper characterized this year as the "most difficult harvest" he has ever had. The Italian agricultural department seems to agree, stating that this year's honey yield was only about half of what it was last year.
Asking for Help
Beekeepers in Europe have had to resort to some out-of-the-box thinking to keep their businesses alive, such as feeding bees fructose-based syrup just so they had enough nourishment to survive. That, however, will not help them get through this dire time. Some beekeepers have already approached the government to declare this a natural disaster, which would open up a variety of avenues of benefits and aid as well as offering beekeepers some additional grace on their outstanding business loans.
In addition to these problems, Europe is now also dealing with an influx of outside honey, providing them with even more competition even though they have fewer products to offer. Most of that competition is reportedly coming from China, which offers less regulation and is what we might consider being misleading or mislabeled. Regardless, because Europe is not currently regulating the industry as it should, these imports are being able to take over the market.
Lucky for you that you don't live in Europe as well as the fact you don't have to leave your house to enjoy the rich taste of Manuka honey. To learn more about our honey or to get an order started, click here. And, remember, order $150 or more and we will take care of the shipping!
Source: Nature World News, Photo by Juan Alexis Mora on Unsplash
---