October 29, 2018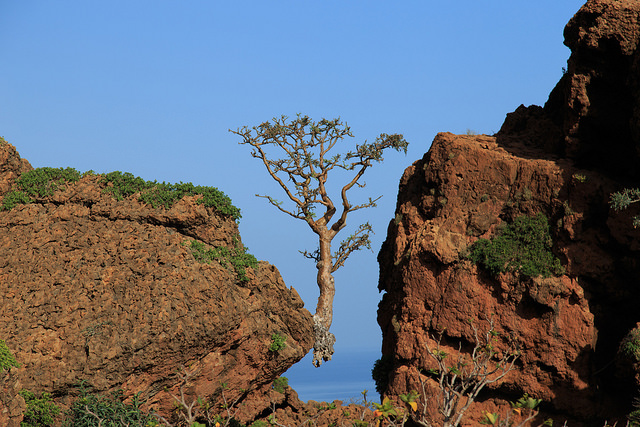 One Israeli farmer has begun cashing in through an exotic honey he's made from one of the rarer types of trees in Israel that can produce frankincense—a once highly-valued resin long praised in the Bible. The Balm of Gilead—the name of the farm owned by Guy Erlich—is the home of roughly 1,000 of these rare Boswellia sacra trees, and Erlich is hoping both these and more of his medicinal foliage will produce remedies to help others—and possibly even help resolve the Palestinian conflict. However, given the farm's address in the West Bank, Erlich's project to harvest and study rare desert plants could be hindered.
Many in the international community believe Israeli settlements within the West Bank and the use of its natural resources are illegal, but Erlich has rejected these criticisms, saying that his work can benefit everyone. "I focus on plants that few other people in the world cultivate. That's how I have a chance to succeed in the years to come. These are also very important plants, and if they're not cultivated, they'll disappear," Erlich said. Per the International Union for Conservation of Nature, Boswellia sacra trees are native to deserts in northern Somalia, Oman, and Yemen, and they've been threatened by over-harvesting of their precious frankincense, which can, in dollars, sell for hundreds per kilogram.
While Erlich's Boswellia sacra trees are too young at this point for frankincense, Erlich realized honey could be a potential revenue source for his farm. The first quantity of honey made via these desert trees' small flowers was sold at $500 per pound. The sweet, amber-hued honey contains earthy undertones as well as a slight astringent finish. Per Erlich, he's already exhausted his original nine-pound cache in just a month, selling much of the honey to U.S. customers. "I've started a waiting list for orders," Erlich added.
Even with this success, international Palestinian-fronted efforts to boycott West Bank settlement products has apparently hurt Erlich's business, with a sizable U.S. investor pulling out several years ago due to boycott concerns. However, despite these anti-settlement sentiments, Erlich still hopes to promote collaboration between his Palestinian neighbors and himself and transform his operation into a medicinal plant research center.
"I would be very happy to one day see this as an international project," Erlich said. "We're sitting at a triangle of borders—we have Palestine, we have Jordan, and we have Israel. If my plants can also serve as a catalyst to unite Israelis and Palestinians, and perhaps other neighbors around, then I am all for it."
Luckily for you, there is no waiting for Manuka Honey! This incredible, rich honey has to be tasted to be fully appreciated. To learn more about our honey products or to get an order started, click here.
Photo Courtesy of Valerian Guillot via Creative Commons License
---