October 30, 2018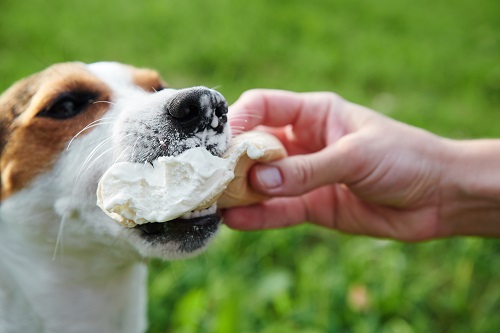 Admittedly, it's likely not in your dog's best interests to feed them bowls of vanilla ice cream—no matter how much their begging might try to suggest otherwise once they get a taste. Fortunately, there are plenty of happy alternatives to ice cream your dog can easily enjoy, such as the yogurt found in these Manuka honey "ice cream" dog treats. It's certainly no ice cream sundae at the end of a long, busy work day, but your dogs will definitely treat these treats as if they are.
It's never ceased to amaze owners how much their dogs love getting treats—whether it's flavored milk bones from the store, small pieces of gristle, table scraps, or something homemade and unique made all the better—and sweeter—thanks to the inclusion of Manuka honey. Not only are these treats creamy and mouthwatering for any critter, but they are incredibly easy to make for anyone who hasn't spent years perfecting their craft in the kitchen.
All you need for this recipe are a couple of affordable, simple ingredients, a blender or a food processor, and enough room in your freezer, and from there your dogs will be introduced to the best treats they have ever had. If you think these treats are the ones for your canine friends, then let us get started on this recipe for Manuka honey ice cream dog treats as soon as possible!
Ingredients for Manuka Honey Ice Cream Dog Treats
32 ounces of yogurt, plain
1 banana, without skin
2 teaspoons of Manuka honey
2 teaspoons of peanut butter
Directions for Manuka Honey Ice Cream Dog Treats
To start, place the plain yogurt, the Manuka honey, the banana, and the peanut butter into a food processor or a blender, blending until the mixture has a smooth texture.
Pour the mixture into a mini- or regular-sized muffin tin—depending on the size of your canines—or you can pour everything into disposable plastic or paper cups. From there, freeze the individual treats until they are solid, which will take several hours at least.
Once the treats have solidified, remove them from the cups or muffin tin and serve immediately or refreeze inside plastic freezer bags.
Note: If you want to change the recipe up a little, you can try substituting or adding a quarter cup of strawberries or blueberries along with the Manuka honey and peanut butter.
Need to order some Manuka honey to make this treat for your dog? To get your order started, click here. And, remember, we offer FREE shipping on all orders of $150 or more.
Note: please consult with your vet prior to feeding your dog to ensure he or she is able to have all of the ingredients listed.
Photo By KonstantinKolosov
---