June 14, 2020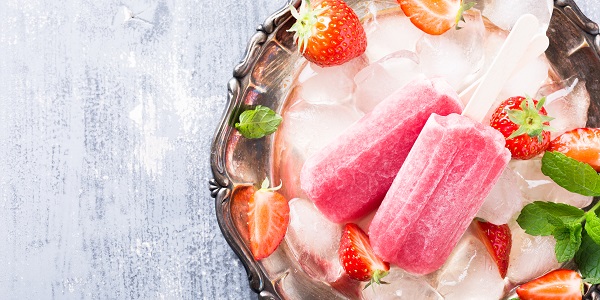 Great recipe with REAL strawberries the kids are going to love.
Eating Healthy, Eating Healthy, Manuka Honey Recipes
Now that summer weather has arrived, the kids (and adults) are going to be looking for ways to cool off throughout the day. Now, I don't know about you, but when I was a kid, the first thing I ran for when I walked through the door on a hot day was the freezer to grab a popsicle or a push-up pop. These treats remain popular today, but the sad reality is that they are often filled with unnatural flavorings, colorings, and a ton of sugar.
Over the last couple of years, I have become quite fond of making my own ice cream and popsicles. In most cases, I can completely eliminate sugar in lieu of alternative or natural sweeteners. Additionally, I have found that naturally flavored ice cream and popsicles taste far better than all that fake stuff we find in the grocery store freezer aisle.
The recipe below can be tweaked with just about any fruit you want as well as giving it a little twist to make it an "adult treat" with only one small alteration to the recipe.
Ingredients for homemade strawberry popsicles:
Strawberries
1T Manuka honey
Water
2T vinegar
You will also need a popsicle mold
To make:
Now, before we make up our mixture, it is important to get rid of any pesticides that are left behind on the strawberries. To do this, leaving the top of the strawberries on, add 2T vinegar to a large bowl or pot, then add water, then add the strawberries. Allow them to soak for about 10-15 minutes before removing and rinsing with fresh water.
Remove stems from strawberries, then cut into half pieces
Add strawberries to blender (a Bullet blender works great for this), Manuka honey, and water (the amount of water you use will depend on how strong of a strawberry flavor you want
Pulse the blender to create the texture you desire (if you like big chunks of strawberry in the popsicles, you can liquify mixture, then add more strawberry pieces to the popsicle molds before freezing)
Pour mixture into popsicle molds (again, if you want fruit chunks, just add a few more pieces to the molds before freezing
place mold in freezer until completely frozen, serve and enjoy
*if you would like to serve these as adult treats, add a few shots of vodka to the mixture along with water before blending
If you need to order Manuka honey to make this recipe, please click here. And, remember, we offer FREE shipping on all orders of $150 or more!
Recipe via Hint of Rosemary, Photo By Merinka
---