January 18, 2019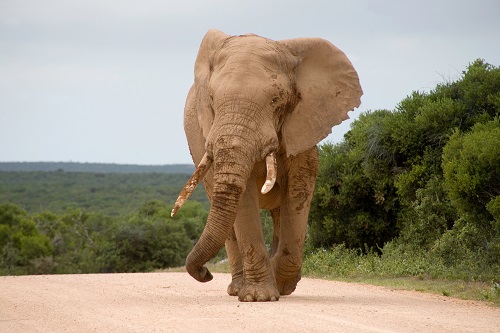 Since 2017, the state of Assam, India has seen a unique technique develop straight out of nature, and it has specifically protected countless elephants from losing their lives on railway tracks. This innovation, put in place by the Northeast Frontier Railways (NFR), involved using the amplified sounds of honey bees, and the downloaded noises eventually led to elephants actually running from the deadly tracks.
According to various wildlife groups, the mammalian favorite fears honey bees and will even avoid a sound source that's 600 meters away from them. This same technique, also implemented in various African countries to protect farmland from elephants, has proven to be so impressive that Piyush Goyal, the Union Railways Minister, plans to implement the use of honey bee hives throughout India, as elephant deaths are becoming a real problem around the country's railway tracks.
"The minister was impressed with our pilot project first used under Rangiya railway division last year. The minister said that this mechanism may be considered for use in other parts since the rural innovation has been found to be useful and can bring in real transformation," says Pranav Jyoti Sharma, who is the chief public relations officer for NFR, whose headquarters are based in Guwahati. Goyal, who recently visited Guwahati, evaluated the Northeast railway projects and requested that officials speed their implementation up.
NFR currently has around 27 corridors for elephants, which covers a significant amount of the country, including the Northeast, parts of East Bihar, and North Bengal. The Rangiya division has successfully installed mechanisms where honey bee sounds are amplified when elephants appear near the railway tracks, prompting them to run away and saving them from potentially getting hit by oncoming trains. The same mechanisms were adopted later in North Bengal's Alipurduar division.
According to a recent forum for wildlife conservationist organizations, roughly 80 elephants perish every year due to man-based conflicts in India, with about 655 deaths being reported from 2009 to 2017, which included 120 deaths by train. Assam has itself reported around 40 elephants dying this past year, and most of them were due to train accidents.
These numbers included six elephants that were struck by the Guwahati-Naharlagun Express in December 2018 in central Assam's Sonitpur district. Both railways as well as the forest department for the state blame one and other for these casualties. Just to demonstrate the seriousness of this unusual but ongoing problem, similar deaths were reported throughout the country in Uttarakhand, Jharkhand, Bengal, Tamil Nadu, Odisha, Uttar Pradesh, and Kerala.
Photo By piccaya
---