January 21, 2019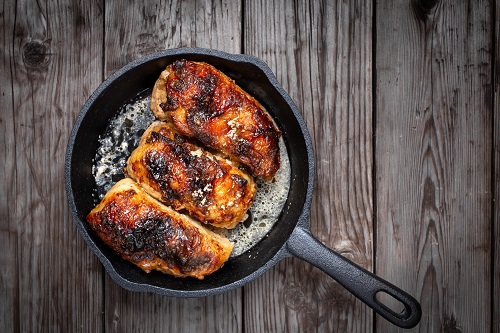 Eating Healthy, Eating Healthy, Manuka Honey Recipes
If you're looking for a twist on fried chicken, then you need to check out this recipe for double crunch Manuka honey chicken. The traditional fried chicken recipe gets a huge blast of flavor from the rich taste of the Manuka honey.
Ingredients for Double Crunch Manuka Honey Chicken
Chicken: 3 skinless, boneless, large chicken breast halves (total of 1 1/4 pounds)
1 cup of flour
1 teaspoon of black pepper, freshly ground
1 1/2 teaspoons of kosher salt
1 1/2 teaspoons of sweet paprika
1/2 teaspoon of ground thyme
1/2 teaspoon of ground cayenne pepper
1/4 cup of water
1 egg, large
Grapeseed or canola oil, for frying
Sauce: 3 cloves of garlic
1/4 cup of Manuka honey
1 teaspoon of extra-virgin olive oil
2 tablespoons of soy sauce, low-sodium
Pinch of ground cayenne pepper (optional)
Directions for Double Crunch Manuka Honey Chicken
Before starting on the chicken, you need to preheat your oven to 425 degrees Fahrenheit on the Bake setting. Set an oven-proof wire rack into a baking sheet before placing the chicken breast halves onto a clean cutting board. Cut the breasts into halves and horizontally, giving you six, equally thick cutlets.
Heat about a 1/2 inch of the grapeseed or canola oil in a medium-sized sauté pan or skillet on medium heat. Note: The temperature from an instant thermometer shouldn't go over 350 degrees, so, as needed, adjust your heat.
In the meantime, whisk the flour, the black pepper, the salt, the sweet paprika, the ground thyme, and the cayenne pepper together in a shallow, wide bowl. Whisk the water and the egg together in a different wide bowl.
Dip one cutlet into your flour mixture, coating it evenly, before moving it to the water-egg mixture and back to the flour. The cutlet should be coated completely—shake any extra flour off and place the cutlet on a clean plate. Repeat until you run out of chicken.
Once your oil is shimmering, add half of the coated cutlets or as many as you can fit without overcrowding. Cook them around four minutes on one side before flipping them using tongs and cooking for another two minutes or until they're golden and crisped.
Use the tongs to move the chicken onto your prepared wire rack. From there, repeat the frying process until you've gone through all your chicken. Also, if you have no other use for them, you can discard any seasoned flour and egg mixture you have left.
To make the sauce, use a microwave-safe bowl to heat up a teaspoon of extra-virgin oil for 15 seconds. Mince your garlic and add it to the oil. Then, cover the bowl with a napkin or paper towel, microwaving in 15-second intervals on high (one minute total should be enough) until softened and fragrant. Stir in your soy sauce, the Manuka honey, and, if using, one pinch of ground cayenne until incorporated.
Drizzle the sauce over your chicken, flipping the cutlets over to get both sides. Immediately move the chicken (on the pan/rack) into your oven, roasting between five and seven minutes until they're heated through. Serve the chicken hot.
If you need to order Manuka honey to make this delicious recipe, click here. And, remember, we offer free shipping on all orders of $150 or more.
Photo By Yingko_8
---