September 25, 2019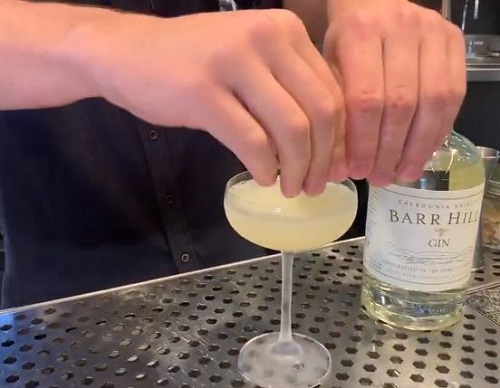 The plight of the modern honey bee is well documented, but honestly, we are surprised at the efforts being made in many other businesses to create awareness of the challenges honey bees are facing. The latest to pitch in is the Montpelier-based distillery, Caledonia Spirits. The distillery has created a honey drink using its Barr Hill gin to raise money for the cause.
Local Restaurants Pitching In
The distillery has crafted a drink called "The Bees Knees." The drink is made with raw honey syrup, fresh lemon juice, and Barr Hill gin. For every drink sold, $1 will be donated to The Bee Cause Project. The promotion is ongoing through September 29 at many of the local restaurants and bars in the area.
The distillery itself has been widely featured in local news stories over its use of honey as well as its efforts to save the honey bee. One fact that was revealed this week was that the distillery uses raw honey in its vodka recipe. In fact, there are four and a half pounds of raw honey used in every bottle of Barr Hill vodka!
What is The Bee Cause Project?
The Bee Cause Project was founded by Ted Dennard. He also happens to be the president and founder of Savannah Bee Company. The small movement by the Georgia beekeeper has grown from a local operation to worldwide organization that has provided more than 500 grants here in the states as well as four other countries.
The mission statement of the organization is "to provide youth with opportunities to understand, engage, and learn from honey bees in order to connect with the natural environment while developing STEAM skills." For those of you not aware, STEAM is an acronym for science, technology, engineering, the arts, and mathematics.
Programs such as this go a long way in creating an awareness of just how important honey bees are to the future well-being of our eco-system. It also helps the next generation grow up appreciating bees, not fearing them. To learn more about The Bee Cause Project, click here.
If all this talk of honey has you craving it, consider trying our raw Manuka honey from New Zealand. Our regular Manuka honey has a rich flavor, but the UMF honey is even richer, with a caramel-like flavor. We also offer Blue Borage and Pohutukawa honey, which are great on their own but also excellent to cook with. And, remember, we offer FREE shipping on all orders of $150 or more! To get your order started, click here.
Source and Photo: Local 22&24 Fox Affiliate and Video Screenshot
---